mardi 31 janvier 2017
Avec son décret anti-musulmans, Donald Trump démontre que nos pires inquiétudes au sujet de son mandat étaient fondées.

Et ce n'est que le début. Il menace de piétiner des accords internationaux. Il menace de lancer une course aux armements nucléaires. Vous l'en pensiez incapable ? Prenez-le au sérieux maintenant.

Le même tourbillon menace d'emporter tous nos pays, et nous devons bâtir un mouvement international pour l'arrêter.Plus de 3 millions d'entre nous ont déjà signé cette lettre ouverte du monde entier à Donald Trump, et les plus grands médias en ont parlé. Aujourd'hui, elle doit devenir un symbole de résistance. Aidez-nous à faire entendre un message encore plus puissant -- faites passer tout autour de vous et signez si vous l'avez pas encore fait :
Cher M. Trump,
Vous n'avez pas l'étoffe d'un grand homme.

Le monde entier rejette votre peur de l'autre, vos appels à la haine et votre intolérance. Vous légitimez la torture, appelez au meurtre de civils et encouragez la violence en général: nous ne voulons pas de cela. Vous dénigrez les femmes, les musulmans, les Mexicains et des millions d'autres personnes parce qu'elles ne vous ressemblent pas, ne parlent pas comme vous ou ne prient pas le même Dieu que vous : nous ne voulons pas de cela.

Face à vos peurs, nous faisons le choix de la compassion. Face à vos discours catastrophistes, nous faisons le choix de l'espoir. Face à votre ignorance, nous faisons le choix de l'ouverture.

Citoyens du monde, nous sommes unis contre vos tentatives de division.






Avec nos salutations,
Alors que les Américains descendent dans la rue en signe de résistance, nous devons leur montrer que le reste du monde est à leurs côtés. Au lieu de nous diviser, faisons de Donald Trump une force qui nous unit, et battons-nous pour tout ce que nous aimons.

Avec espoir,

Emma, Alice, Christoph et toute l'équipe d'Avaaz
---
Avaaz est un réseau citoyen mondial de 44 millions de membres
qui mène des campagnes visant à ce que les opinions et les valeurs des peuples influent sur les décisions mondiales. ("Avaaz" signifie "voix" dans de nombreuses langues). Nos membres sont issus de tous les pays du monde; notre équipe est répartie sur 18 pays et 6 continents et travaille dans 17 langues. Pour découvrir certaines de nos plus grandes campagnes, cliquez ici ou suivez-nous sur Facebook ou Twitter.
lundi 30 janvier 2017
Paris, le 29 janvier 2017
Chère Amie, cher Ami,
François Fournet,
poète, écrivain, comédien, membre actif d'
Actes de présence,
propose
sous l'égide de l'association
Rencontres européennes Europoésie
le dimanche 12 février 2017
Soleil de la Butte
32, rue Muller Paris XVIIIe
métro : Anvers, Barbès-Rochechouart (ligne 4) ;

notez que la station Château-Rouge est fermée
funiculaire de Montmartre (gare haute) ; bus : Montmartrobus, 85
Plaisir d'amour
humour, poésie et fantaisie
scène ouverte après le spectacle
06 09 92 14 47
Actes de présence
2 ter, passage de Clichy
F-75018 PARIS

Téléphones : +33 (0)9 51 79 61 37 / +33 (0)1 42 93 61 37
Fax : +33 (0)9 51 79 61 37
Courriel :
actesdepresence@free.fr
Plus aigu
Le soc de la lumière
Qui fend par le travers
La poitrine du ciel
Jusqu'à atteindre
Le cœur battant même
A l'intérieur de ton ombre
Errant sur les pierres
dimanche 29 janvier 2017
Trump is trying to force cities to stop protecting our people.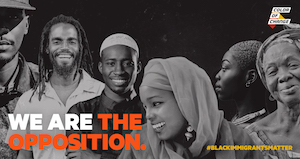 Tell your mayor: #DontGiveIn
On Wednesday, Trump stripped federal funds from "sanctuary cities"--targeting places that are taking a stand to make sure immigrants do not live in fear.1 With this and other executive orders coming down the pike, Trump is following through on a dangerous promise that intends to rip families apart, affecting the 3.8 million Black immigrants who deserve safety and full protection. There is no "wait and see," we have to fight for our people now.
We can't let our cities' mayors give in. Already, mayors in cities like Chicago, New York, and Los Angeles are vowing to fight against Trump's hate.2 But we have to call on them to do more and to never give up. Currently, at least 300 cities in the U.S. consider themselves Sanctuary Cities. That means local governments do not report, give information about nor turn over immigrants to U.S. Immigration and Customs (ICE).3 But we need the mayors of these cities to do more. Too many "sanctuary cities" still grapple with state sanctioned violence against and pervasive criminalization of Black and Brown people.
Trump thinks he can make sure all immigrants live in fear and are banned, detained, deported, and ostracized indefinitely--but he's mistaken.
This affects the 3.8 million Black immigrants who seek and deserve safety and full protection. And now, Trump just signed an executive order to place a temporary ban on refugees and a suspension of visas for immigrants from Muslim-majority countries such as Syria, Iraq, Iran, Libya, Somalia, Sudan and Yemen.4
We must go beyond sanctuary. For our communities, it means :
We must work to end relationships between local law enforcement and ICE agencies.
Eliminate cities' investment with private prison companies and their investors.
We must work to end the mass incarceration of Black people within the entire prison industrial complex system.
We will continue to fight back against police violence and hold police departments accountable.
We must make sure families earn a fair livable wage, and sleep in the comfort of a safe, affordable home.
It's important that all Black people feel safe and live with dignity.
Black immigrants will be severely affected by the swift and heinous changes the Trump administration makes.Black immigrants make up a disproportionate number of immigrants that come in contact with police and ICE officials, leading to misdemeanor and felony convictions, thus increasing their chances of being deported. Roughly 3.8 million Black immigrants live in the U.S. but make up at least 20% of immigrants that go through through immigration proceedings such as detention.5 With these executive orders coming in, the vulnerability of Black immigrants will surely increase and many more will not be allowed to enter the U.S.
We must recognize the shared experience between Black immigrants and Black U.S. citizens. When one member of our community is under attack -- we are all under attack. Whether it's being racially profiled and brutalized by police, a family member imprisoned in jail or a detention center, or those who do not have the economic means to support loved ones, our stories and struggles matter. This is why it is necessary to stay committed together to make sure cities do not waver if federal monies are taken away or give in to the Trump totalitarianism.
When a city is declared a Sanctuary city they must do the work by creating policies and a culture that protects and liberates all Black and Brown people. Cities must remain a Sanctuary even when the federal government rejects them. Right this moment, millions of individuals and families are being told they have no place here. Let's take a stand and demand mayors fight and resist Trump.
Rashad, Arisha, Scott, Anay, Clarise, and the rest of the Color Of Change team
References :

---