Milo Yiannopoulos encouraged vigilantes to kill journalists just hours before the shooting and double downed on that sentiment after the shooting.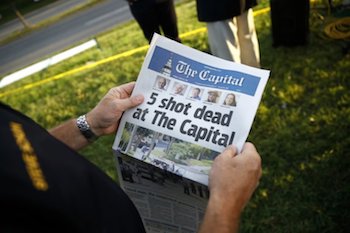 Help stop people like Milo from enabling violence and hostility toward journalists and Black people.
Yesterday's mass shooting in Annapolis was the deadliest day for US journalists since 9/11. It underscores the dangers members of the media face in this climate where the president and other high profile influencers refer to them as "enemies" and "vermin." Regardless of the motivation of this particular shooter, Milo Yiannopoulos encouraged vigilantes to kill journalists just before the shooting and doubled down on that sentiment after the shooting.1 2
This is unacceptable and dangerous. We're already working to get Milo removed from Facebook and Instagram to further limit the reach of his hateful rhetoric, but there are still so many more platforms that Milo is exploiting and we need your help getting him off of them. From Amazon and Barnes & Noble letting him sell his hate filled book to YouTube allowing him to spread his message - we need more resources to push corporations to cut off Milo.
We cannot allow people like Milo to use online platforms to spread and monetize hateful and violent messages.
Milo's actions, both on and offline, have fed an environment that encourages violence against the press and people of color. Milo actively rallies his followers to do actual harm to actual people. He harassed and outed a trans student by name during a talk at the University of Wisconsin-Milwaukee.3He led the charge for the sexual and racial harassment of actress Leslie Jones.4 He gave Gamergate mainstream legitimacy and a platform that greatly elevated the harassment of female reporters in the industry.5 Recently, he sent a coded neo-nazi message that means "Heil Hitler" to a Jewish fact checker at the New Yorker.6
At issue here is not freedom of speech but the freedom to treat other people, particularly vulnerable ones, badly; the freedom to whip up racist, misogynistic, anti-Trans and xenophobic fears without facing any consequence; the freedom to embolden forces that represent a tangible danger to people. We need to keep organizing to shutdown hate.
In the last 18 months we've made major strides in cutting off people like Milo as well as other hate leaders and hate groups from being able to use the Internet to grow their hateful movement. We've cut dozens of hate groups and white supremacist leaders off from platforms like PayPal and Eventbrite, got Milo Yiannopoulos' big book deal with Simon & Schuster cancelled, and have chipped away at the presence of hate groups on social media. But there are still so many platforms for people like Milo to fundraise off their hate and spread their message - we need to continue to do the hard work needed to cut them off from their platforms.
Increasing our capacity allows us to be ready for these moments. And we know more off these moments will come. Hate leaders are already deep into organizing another "Unite the Right" event where leaked conversations show they plan to engage in violence again.7
Brandi, Rashad, Arisha, Jade, Evan, Johnny, Future, Corina, Chad, Mary, Angela, Samantha, Saréya, Eesha, and the rest of the

Color Of Change

team
---
References :

---