Facebook's scandals are making vulnerable communities less safe online.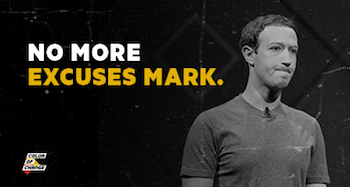 Demand an independent public audit of the civil rights and safety impacts of Facebook's policies and programs.
The Facebook scandals just keep coming; every day we learn of a new way Facebook has put our communities' safety at risk. First, we found out Facebook allowed Cambridge Analytica - a shady campaign firm working for Trump - to exploit the private personal data of 50 million people without their knowledge.1 Now we've learned that Facebook data is being used by ICE to track people.2
Though Mark Zuckerberg has signaled his political support for immigrant communities, Facebook has increasingly become an accessory to ICE's deportation machine.3 4 Aiding in a process that not only hunts down Black immigrants and targets Black activists but helps to create cases against them in court. Like so many other issues that deal with the safety of their users, Facebook has not done nearly enough to protect the most vulnerable people.
We all know the feeling of seeing a friend's latest hilarious video pop up in our News Feed, or clicking through the latest photos of a family member's new baby across the country or seeing our people in the streets demanding justice for yet another murder by police. For both the joyous and the tragic, Facebook is a venue for our people to connect, to organize and to share. Facebook is enmeshed in our culture so deeply that the failure to protect our safety on the platform is an egregious violation of the public trust.
These latest scandals add to a laundry list of issues that put the safety of our communities at risk - including Facebook becoming an organizing hotbed for white supremacists, an incubator for hate speech, and a place for law enforcement to harass Black people. It's past time for Facebook to take responsibility.
Mark Zuckerberg has promised that following these latest scandals his company will finally step up and properly protect our data. But we've seen Zuckerberg, make and break this promise before. In a recently resurfaced BBC interview with Zuckerberg from 2009, he promised that users will own their own information and that Facebook wouldn't sell it or share it with anyone.5 Zuckerberg has shattered that promise and in doing so allowed our information to be exploited. If Zuckerberg wants to regain our trust, he must commit to a full and public civil rights and safety audit of his company conducted by an independent outside agency. The information we share with our friends and family should not be exploited for someone else again.
We know that public audits like this work, which is why were joining with Muslim Advocates to push Facebook to conduct one. When Airbnb lost the public's trust in 2016 over a series of discriminatory housing issues, we pushed with them to conduct a public audit and the results drove them to overhaul much of their platform to create a more fair, just and safe experience for Black users.6 Airbnb's audit was successful because it was done by an independent third-party, civil rights organizations were meaningfully engaged about the recommendations and the results were released to the public. Like AirBnB, Facebook can use a public audit to better understand how they have failed to protect our communities and find ways to make systemic changes that better protect users.
So far, the only steps Facebook has publicly taken to address this crisis have been to roll out an updated privacy settings page.7 This step is just a paint job masking Facebook's deeper problems and is indicative of the company's typical reaction of putting the burden of solving major issues like this on their users. In the past, when it came to addressing the ongoing hate speech crisis on the platform, Facebook has burdened the people being attacked with the responsibility to report and prove the threats were substantial instead of using their vast resources to invest in transformative anti-hate policies and practices.8 9 Rather than develop robust policies and practices that protect our information, our rights, and our safety, Facebook prefers to make minor adjustments to how their settings are displayed. It's time for that to change.
Under Zuckerberg's leadership, Black users have increasingly found the platform to be an unsafe environment. Beyond the constant stream of white supremacist hate speech on the platform, many outspoken Black activists have repeatedly been banned by Facebook.10 11 12 This undoubtedly because Facebook's own training documents show a deep misunderstanding of what hate speech.13 Until just a few months ago, their documents indicated that white men were deemed a more protected category than Black children.14 On more than one occasion, Facebook has punished Black users for stating "All White people are racist" as hate speech, but has refused to remove posts threatening violence against Muslims.15 Even our own recent Instagram post about the 'March for Our Lives' and the epidemic of white male gun violence was removed under Facebook's erroneous hate speech rules.16 17
Hate speech is speech that attacks a person or group based on their actual or perceived race, color, religion, national origin, ethnicity, immigration status, gender, gender identity, sexual orientation, or disability - and it can lead to violence, intimidation, harassment, and threats. But because of Facebook's lack of transparency on these issues, it has been difficult to keep people safe from threats on the platform.
Facebook's disregard for the protection of private personal data and the safety of its most vulnerable users is playing a role in shaking the foundations of our democracy and shattering people's faith in institutions. This week, Mark Zuckerberg stated, "you know we have a basic responsibility to protect people's data and if we can't do that then we don't deserve to have the opportunity to serve people."18 Facebook's failures have put our communities at risk through their data malpractice, opaque interactions with law enforcement, erasure of Black activist voices, and inability to tackle hate speech on the platform.

Only through a public audit of all of Facebook's practices and programs can real systemic changes be identified that will make Facebook the type of platform where people can share photos without fear a white supremacists trolling them, talk about racism and Black experiences without fear of being put in "Facebook jail," and keep up with our families over distance without worrying that our private information will be shared with nefarious companies.
Until justice is real,
Arisha, Rashad, Brandi, Johnny, Evan, Jade, Future, Corina, Chad, Mary, Angela, Saréya, Eesha, and the rest of the

Color Of Change

team
---
References :
---