If we're going to see police accountability, it needs to happen on a state and local policy level. Now's our chance in California !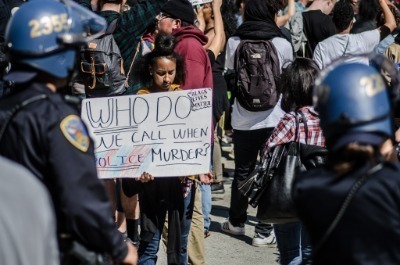 These CA lawmakers need to hear from you:
tell them that police should only use deadly force as a last resort !
California police departments have some of the highest rates of killings in the nation.1 After Stephon Clark's murder at the hands of Sacramento police, folks in California have vigilantly been organizing for police accountability. Now, there's a bill in the state legislature that would limit the authorized use of deadly force state-wide and require other measures to be taken before an officer discharges their gun. We need to make sure AB 931 passes so that the police can no longer rely on claims of fear or split-second decisions.
Tomorrow, the California Senate Committee on Public Safety will hold a hearing and vote on AB 931. This is the first of two committees the bill will have to pass through in order to go to a vote by the full legislative body. If we demand policy change from these elected legislators in California, it will be an important step towards a new statewide legal standard for the police use of deadly force and a broadening of considerations for accountability. All law enforcement in California will no longer have absolute immunity to murder us.
In March, Stephon Clark, unarmed 22-yr-old Black man standing in his family's backyard was murdered by Officers Terrence Mercadal and Jared Robinet. They fired 20 shots at Stephon, claiming to have seen a gun but only a cell phone was recovered at the scene. Stephon was shot seven times in the back while his family was inside the house.2 Despite calls for justice and weeks of protest, District Attorney Anne Marie Schubert has yet to bring charges against Officers Mercadal and Robinet. In fact, there have been 22 police murders since Schubert was elected, and she hasn't brought charges against any cops.3 Schubert was just re-elected last week, despite her horrendous record. This erases any chances of justice for Stephon's family. We won't stand for this injustice. We must call on the members of this committee to advance this bill and change the system that leaves so many families with a void.
With the introduction of AB 931, we have a historic opportunity to change the law in California so that that cops won't get away scot-free when they kill us. Families of victims and community members, activists and organizations have mobilized anew after the murder of Stephon Clark, among so many others. While various jurisdictions across the country have adopted limited use of force policies, this will be the first statewide standard set. The law enforcement lobby is really strong in this state, and have mobilized against AB 931--making it their number one priority to defeat it. But the bill has already made it through the assembly, it just needs to pass the state senate. We have to act now while we have momentum.
Arisha, Rashad, Scott, Clarise, Anay, Kristen, Marena, Daniel, Tamar, Lorran, and the rest of the

Color Of Change

team
---
References :
"Fatal Force : Police Shootings 2017 Database." Washington Post.

https://act.colorofchange.org/go/7853?t=9&akid=14662%2E1942551%2EPkel1C

"Stephon Clark Was Shot 8 Times Primarily in His Back, Family-Ordered Autopsy Finds." New York Times, 30 March 2018. https://act.colorofchange.org/go/34059?t=11&akid=14662%2E1942551%2EPkel1C
"Verify : How many people have been killed by officers in Sacramento County since 2015?" ABC, 16 April 2018. https://act.colorofchange.org/go/58340?t=13&akid=14662%2E1942551%2EPkel1C

---