DOJ finds Chicago Police Department systematically racist.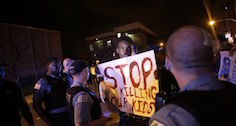 Mayor Rahm Emanuel needs to stand up to police unions and demand accountability.
Friday, the Department of Justice released their report of a 13-month-long investigation of the Chicago Police Department.1 And to no one's surprise, the report shows rampant systemic racial discrimination against Black and Brown folks. DOJ launched the investigation as a result of uprising and organizing around the killing of 17-year-old Laquan McDonald who was shot on camera by CPD in 2014.2 The report's findings show that police willingly use unnecessary force and target Black and Brown folks. That type of intentional hatred is deeply imbedded in the system, and Mayor Rahm Emanuel has to do more than give lip service to reform.
This year, the contracts for the Fraternal Order of Police (FOP) are up for renewal--and they have provisions that make it easier for police to kill and harder to be held accountable. It's no secret that the Chicago PD is racist. But the only person who has the power to demand accountability in the contract negotiations is Mayor Emanuel. And now that Chicago police have been exposed through this report, he has no choice but to stand up to FOP.
It's time to put an end to the intentional "behind closed doors" meetings to discuss public affairs like police accountability. The grimy and shady provisions in the FOP contract, show just how much they can't be trusted. Officers can wait up to 24 hours after a shooting to do an interview, and they can change their statements after getting a chance to see audio or video evidence.3 It's almost unbelievable how gross this is, but history shows us that this is normal behavior for corrupt and racist police departments. And the community is literally paying for it, nearly half of every dollar in the city's budget goes to the Chicago PD.4
We are still fighting for more DOJ reports to be released before President Barack Obama leaves office.5 And as we vastly approach the swearing in of our next president, we have to be fearless and unapologetic in our pursuit of justice.Phrases like "law and order" and "tough on crime" are beginning to ring once again, but we must not shrink at the sound.6 We must continue to demand accountability and transparency of not only the Chicago Police Department but everywhere we know Black folks are being systematically mistreated by cops.
Scott, Rashad, Arisha, Malaya, and the rest of the

Color Of Change

team
References :

---