Hundreds of District Attorneys are coming
together to set their agenda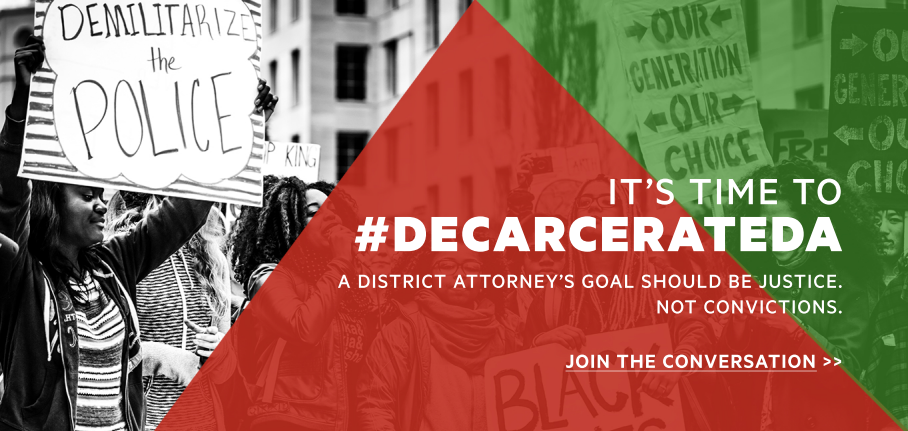 Sign onto the 5 demands to keep our
This weekend, hundreds of District Attorneys from all over the country are coming together for a summit in the same city where Philando Castile was killed. And Black organizers and activists are coming together for a counterprotest--the Mobilization and Counter-Conference for Safety and Liberation--to hold them accountable to justice over convictions. Because fueling mass incarceration doesn't keep our communities safer.
The National District Attorney Association plays a major role in shaping the prosecutorial practices that DA offices across the country adhere to--and this upcoming summit is a big moment to influence the message that prosecutors in attendance are hearing. That's why we're joining the Black Freedom Cohort, a coalition of Black-led organizations, to deliver 5 critical demands to them in person. Will you add your name ?
Here are the five demands we'll be delivering to the NDAA :
Encourage all NDAA members to end the practice of direct file, which automatically places juveniles in adult courts.

All NDAA members should commit to considering immigration consequences for defendants as part of determining what to charge, and not to prosecute immigrants for minor offenses.

Advise members to commit to using independent prosecutors to investigate cases of police brutality.

All NDAA members should support an end to money bail and use a risk assessment system to determine when someone needs to be incarcerated.

All NDAA members should develop a restorative justice program in their county which will serve as an alternative to incarceration, including for those people that commit violent offenses.
Prosecutors have one of the most powerful positions in the criminal justice system--yet 85% of them run unopposed.1Aside from having control over the decisions that can make or break someone's life, they have executive power over the hundreds of staff and prosecutors running cases in our city and county courts. They have deeply coordinated relationships with the police, judges, and a big influence on legislation. Especially in the Trump era, when we're seeing a resurgence of racially coded "Law & Order" tactics and violent persecution of immigrant families, the choices District Attorneys make are even more important.
We need more than talk about progressive policies, we need real concrete plans and commitments to stop putting so many Black and Brown people in cages. Because the persistence of high crime in the most heavily policed areas tells us one thing : criminalizing the most vulnerable of us doesn't keep us safe.
Rashad, Arisha, Scott, Clarise, Anay, Malaya, Enchanta, Katrese, and the rest of the

Color Of

Change

team.
References :

---