Jasmine Shepard should have been the first
Black valedictorian at Cleveland High School
in Mississippi in its 110 years, but she was
forced to share that title with a white student
who didn't earn the honor.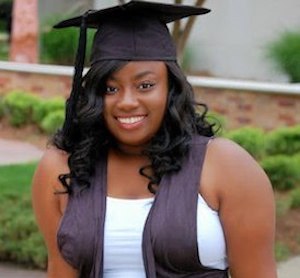 Jasmine deserves recognition for her
achievements. Demand Cleveland High School
recognize Jasmine as the sole valedictorian !
Earlier this summer, Jasmine Shepard should have become the first Black valedictorian in 110 years at Cleveland High School in Mississippi.1 An amazing achievement considering that Cleveland, MS still has not fully complied with federal desegregation orders from the land mark Brown v. Board of Ed ruling 60 years ago.2 But Jasmine was denied this honor when she was forced to share it with a white student who did not qualify for it. To add insult to injury, she was even asked to walk behind the white student at graduation and give her speech second.
Since filing a lawsuit against the school district a few weeks ago, Jasmine and her family have been the target of a torrent of racist and hateful messages.3 Messages that are too sickening and hateful to be shared here. This whole incident exemplifies the barriers that Black girls and women face - when we work twice as hard we get half the credit, and when we speak out about that unfairness we get flooded with hateful messages.
In a society that regularly invalidates the experiences and achievements of Black girls like Jasmine, it's important that we fight to give Black women the recognition they deserve.
Denying Jasmine the right to be sole valedictorian of Cleveland High School and the flood of hateful messages directed at her are part of a larger trend of robbing Black girls of the education and resources they deserve as well as incriminating them. In recent years Black girls have been experiencing increased rates of criminalization in schools. Black girls make up only 16 percent of girls enrolled in school but makeup 33 percent of girls with school-related arrests, and in some places, like New York, Black girls are expelled at 53 times the rate for white girls.45 According to the most recent data from the U.S. Department of Education, nationally Black girls are suspended six times more than white girls.
This criminalization of Black girls is exemplified in recent incidents that sparked national outrage, including Kiera Wilmot, the 16-year-old Florida girl expelled for a harmless science experiment6; Dajerria Becton, the 15-year-old girl tossed and pinned to the ground by a McKinney, Texas, police officer during a pool-party squabble7; and Shakara, the 16-year-old girl dragged out of her seat and thrown across a South Carolina classroom over a cell phone.8
These Black girls know all too well that they must often navigate through a landscape that reinforces multidimensional stereotypes, discrimination, and debilitating narratives about their Black femininity. Recognizing Jasmine as the sole valedictorian is a small but crucial step to changing these harmful narratives about Black girls. Jasmine Shepard should be recognized for the incredible work she's done to become the first Black student to ever earn valedictorian honors in Cleveland, Mississippi.
Brandi, Rashad, Arisha, Evan, Jade, Anika, Corina and the rest of the

Color Of Change

team.
References :

---