2017 promises to be an even more challenging time for all of us. But we're dedicated to standing up for Black folks.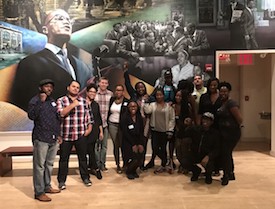 Help us take our work even further by making a holiday donation to Color Of Change.
I'm Bernard – a member of the 2015 Campaign Manager cohort here at Color Of Change.
It's been an amazing year for Color Of Change - our first with the organization - and one in which we've won iconic victories with real, lasting, and positive outcomes for Black folks. It's been an honor and a privilege to see how one of the nation's preeminent racial justice organizations protects and strengthens Black communities, and to contribute to that important work. 2017 promises to be an even more challenging time for all of us. To make sure we're on solid financial ground for 2017, we need to raise at least $150,000 by the end of December.
The end of the year is just around the corner - will you chip in $3 for 2017 and help close this fundraising gap ?
At Color Of Change, every donation made by members like you goes towards funding work that ensures that the voices of Black folks are heard, our needs met, and our rights protected. We've seen firsthand the difference your support can make in the fight for racial justice and equity in just a year. In 2017, we plan to make even more of a difference :
Hire a researcher to collect information on corporations that use prison labor, or other ethically unsound policies that harm and exploit Black folks.
Create a volunteer recruitment and organizing infrastructure, making it easier for Color Of Change members to take action as part of pivotal campaigns.
Expand our capacity to hold politicians accountable, ensuring that Black communities across the country have leaders who will defend them.
In the face of an incoming Trump administration that has promised to roll back progressive policies that Black folks rely on to protect our rights, your contributions are more important than ever. All four of us, and the rest of the Color Of Change staff, are committed to opposing Trump and fighting for Black folks. But we need your support. Will you chip in right now ?
Bernard, Yeshi, Thomas, Enchanta, and the rest of the Color Of Change team

---