It's time to get in formation.
With one month left before Donald Trump takes office, we've reached a crucial moment in our movement where we must set a fresh agenda that will lead us in the fight ahead.
This Monday, December 12 from 7-8 ET, we invite you to a virtual townhall, "It's time To Get In Formation: Changing the Way we Fight and Win."
This virtual event will be moderated by CNN contributor and President of Dream Corps, Van Jones and hosted by our very own Arisha Hatch. We have a powerful lineup of movement leaders Linda Sarsour, Jose Antonio Vargas and Opal Tometi, who will join me in discussing what is at stake in our communities under a Trump administration and share a plan to pivot from heartbreak to action.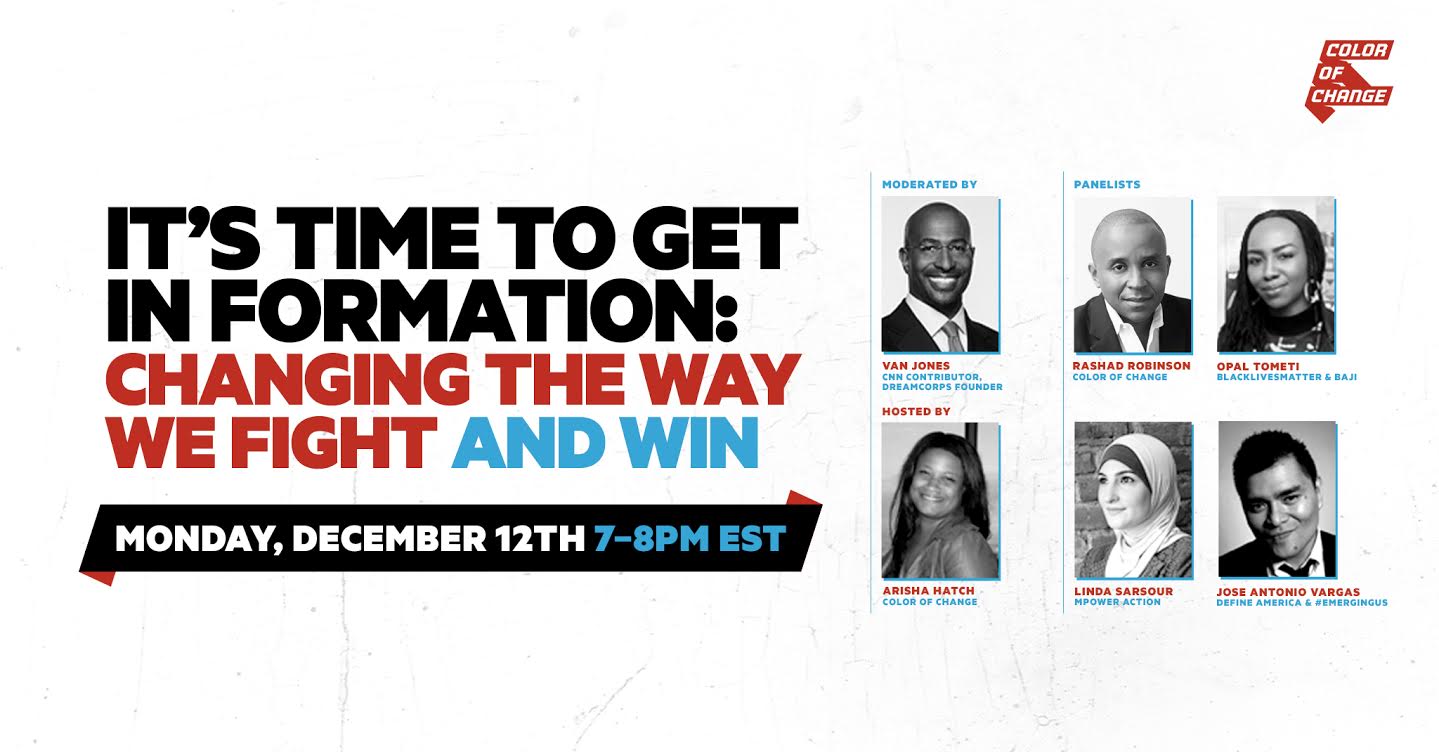 What our country needs right now is an effective, unapologetic opposition, built to win the media wars and change hearts and minds; win key elections and take control; mobilize millions of new people to define the majority; and ultimately govern the country. We gathered some of the strongest voices in this opposition who bring decades of experience from the frontlines of the fight for justice for all Americans.
Van Jones

is a CNN contributor and President of Dream Corps, he has emerged as the most prominent voice in the opposition and recently launched #LoveArmy, a campaign that serves an alternative to the hate and divisiveness gaining momentum in our communities and in our country.
Linda Sarsour

is a national leader against Islamophobia and a Civil Rights activist. She is the Executive Director of the Arab American Association of New York and co-founder of the first Muslim online organizing platform MPower.
Opal Tometi

is a national leader in immigration reform and has worked to change the conversation around how anti-immigration policies impact Black immigrants as Executive Director of the Black Alliance for Just Immigration and co-founder of Black Lives Matter.
We are also honored to be joined by award-winning multimedia journalist

Jose Antonio Vargas

, who serves as CEO of Define American, an organization that seeks to elevate the conversation around immigration and citizenship in America.
Each and every one of us will be called to take Color Of Change and the movement for racial justice to the next level in 2017 and it starts here.
Rashad, Arisha, Hope, Kwesi, Shannon, Jenni, Chad, Yeshimabeit, Malika and the rest of the

Color Of Change

team

---