Tell tech firms: don't help Trump build a Muslim registry !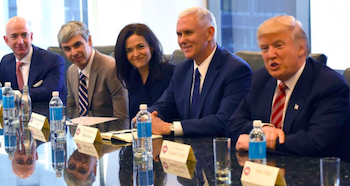 Tech firms will fall in line with Trump's administration of hate if we don't hold them accountable.
When asked if they would help Trump's administration of hate violate the rights of millions of Americans, IBM refused to give an answer.
Last month, top tech corporations: Facebook, Twitter, Microsoft, Google, Apple, IBM, Booz Allen Hamilton, SRA International, and CGI were all asked if they'd sell their technology to help Trump build a Muslim registry - an insidious plan to track, racially profile, and relegate Muslim Americans to second-class citizens. Nearly all of these companies were initially silent and refused to answer.1 Trump is already showing us that his administration will put our communities, freedoms, families, in danger -- and it's time for tech companies like IBM to take a stand and refuse to create a Muslim registry.
The only company to unequivocally state that they will not help Trump harm our communities was Twitter. And it was only under pressure from Color Of Change, and other organizations like CREDO, that Microsoft, Facebook, Apple, and Google agreed not to help build the registry.2 The refusal of the other tech giants begs the question. If these companies are willing to make money off Muslim users, why aren't they willing to protect them? These firms have become wildly successful because of diverse users like us and now, they're open to sell out their base to gain favor with Trump's administration of hate.
This is unacceptable. In this alarming political climate, we can't afford to let corporations that could aid the oppression of an entire faith community, play the middle. That's why we're demanding that tech companies pick a side and reject Trump's administration of hate. It is the duty of these firms to refuse to target users on the basis of race, religion, or nationality. If they don't, they are rejecting inclusion and choosing fear.
We already know how this story ends. The Bush Administration also experimented with a Muslim registry. However, the registry proved a useless tool as not a single person on the registry was ever convicted of a terrorism-related crime. The registry only served to ostracize Muslims from society and relegated them to second-class citizenship. In reality, the program simply profiled Muslims, subjected many of them to detention and deportation, and damaged their communities. In only the first year of the program, the government started deportation proceedings for more than 13,000 people.3 We know that this proposed Muslim Registry won't keep us safe--instead it will just disenfranchise millions of Muslim Americans.
Donald Trump ran a campaign based on anti-Muslim bigotry --calling for a Muslim ban and laying out plans to shut down all mosques in the United States.4 These plans would effectively ban freedom of religion for the American Muslim community, which is a richly diverse one--with Black folks making up a quarter of Muslims in the United States.5 By refusing to respond, these corporations are complicit in fueling the same anti-Muslim bigotry that has propelled hate crimes to a level not seen since September 11th.6
Already, tech companies are falling in line with the same administration that's nominated white nationalists to the Presidential cabinet.7 Although many Silicon Valley leaders publicly criticized Trump during the election, the heads of tech companies like Apple, Facebook, and Microsoft, already met with him this week--with Bill Gates even daring to compare Trump to civil rights icon, President John F. Kennedy Jr.8 They're going to toe the line if we don't hold them accountable.
That's why It's time for Silicon Valley to pick a side--the stakes are too high. The same platforms that we use to find dinner recipes and share graduation pictures must protect us, not harm us. We can't let this happen.
Brandi, Rashad, Arisha, Anika, Jade, Evan, Bernard, Corina, the rest of the

Color Of Change

team
"Of Nine Tech Companies, Only Twitter Says It Would Refuse To Help Build Muslim Registry For Trump." The Intercept, 2 December 2016.
https://act.colorofchange.org/go/7137?t=10&akid=6612.1942551.TPyRTR
"UPDATE: After Pressure From Advocacy Group, Facebook Says 'Of Course' It Wouldn't Participate in Muslim Registry." Colorlines, 13 December 2016.
https://act.colorofchange.org/go/7138?t=12&akid=6612.1942551.TPyRTR
"The Bush-era Muslim registry failed. Yet the US could be trying it again." CNN.
http://act.colorofchange.org/go/7139?t=14&akid=6612.1942551.TPyRTR
"Donald Trump: 'Strongly consider' shutting mosques." CNN, 16 November 2015.
http://act.colorofchange.org/go/7094?t=16&akid=6612.1942551.TPyRTR
"Muslim-American Demographics Reveal A Diverse Group That Rejects Categorization." The Huffington Post, 26 March 2014.
"Post-election spate of hate crimes worse than post-9/11, experts say." USA Today, 14 November 2016.
http://act.colorofchange.org/go/7095?t=18&akid=6612.1942551.TPyRTR
"White Nationalists Celebrate Trump's Victory and Early Appointments." Mother Jones, 19 November 2016.
http://act.colorofchange.org/go/7140?t=20&akid=6612.1942551.TPyRTR
"Bill Gates likens Trump messaging to JFK." Business Insider, 13 December 2016.
http://act.colorofchange.org/go/7147?t=22&akid=6612.1942551.TPyRTR