Bill O'Reilly should have been gone a long time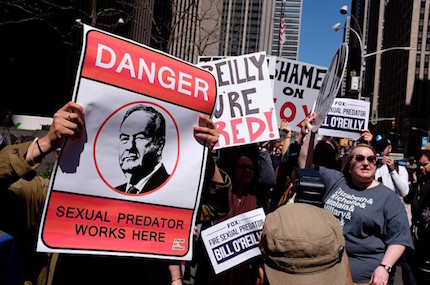 Donate to help us keep holding Fox News
Today, we did something that we were told was impossible. When we first launched this campaign in 2014, people told us that we were no match for Bill O'Reilly. That no amount of public pressure, especially not from a Black organization, could ever change anything at Fox News. Our resources and time would be better spent elsewhere.
But our members spoke and we listened. And after it came to light that O'Reilly's dangerous rhetoric against Black people, people of color, and women mirrored the morally bankrupt and predatory actions he carried out against Black people and women when the cameras were off; we couldn't take it anymore. We banded together with partners like UltraViolet, the Women's March, NOW-New York, CREDO, Sleeping Giants, and MoveOn. And over 340,000 petition signatures, thousands of flyers, tweets, 77 advertisers abandoning "The O'Reilly Factor" and hundreds of calls later, Fox News has officially announced that Bill O'Reilly's platform for anti Black vitriol and misogyny has been canceled.1 You read that right--after twenty years of demonizing Black communities and irresponsible, dishonest journalism, "The O'Reilly Factor" is off the air.
This is a victory for American hero, Representative Maxine Waters, whom Bill O'Reilly disrespected on national television as she was defending our country. This is a victory for the Black Lives Matter movement whom Bill O'Reilly lambasted as a hate group as they fought for the freedom and safety of Black folks everywhere. This is a victory for the countless women, Black people, and people of color who were made to feel small during Bill O'Reilly's incessant, pathological rants.And most importantly, this is a victory for female Fox News employees, who were just trying to do their jobs but were instead subjected to O'Reilly's lewd intimidation and sexual harassment.
But now, there are reports that Fox News is replacing Bill O'Reilly with another raging bigot, Tucker Carlson--the Fox News correspondent who has repeatedly attacked the NAACP and Planned Parenthood, and openly praised Representative Steve King's racist remarks about "somebody else's babies."2 We didn't take down Bill O'Reilly just for him to be replaced with another megaphone for racism and misogyny. We're determined to keep the pressure on Fox News--and fight to keep hate off our television screens. This requires us to continue to fight to change media networks and cable news corporations from the ground up. And this looks like working to make our members' voices heard, standing in solidarity with the women who sued Bill O'Reilly as well as the Black women employees who are fighting against the racism and hostile work environment that is Fox News.
Fox News is a multi-billion dollar corporation and we beat them, because organized people can beat organized money. We have a vision for a media environment where racism is no longer profitable and where purveyors of sexual violence are not rewarded in the media and on Wall Street. This media landscape is possible--and we can make it a reality if we stick together and keep the pressure on.
Arisha and the rest of the

Color Of Change

team.
References :

---