Hundreds of Floridians traveled to Gov. Rick
Scott's office to deliver over 130K signatures.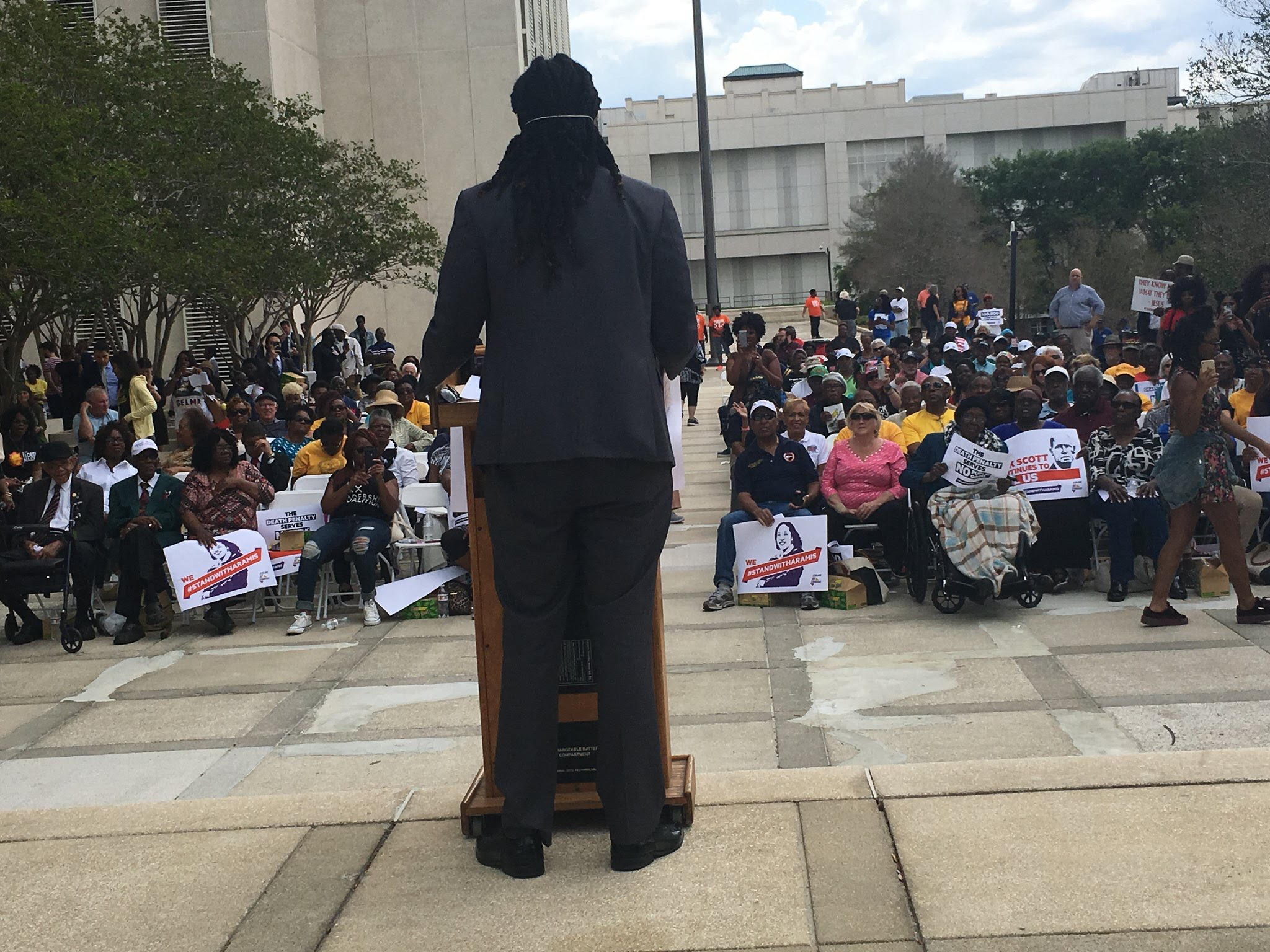 We have a plan to keep up the momentum, but
we need to raise another $20,000.
What you did last week was amazing--and now Gov. Rick Scott is feeling the pressure. The #RideForAramis rally in Tally was a huge success. On Thursday, over 300 Floridians showed up on buses (that you helped fund), and we rallied on the State Capitol and delivered over 130,000 petition signatures to Gov. Rick Scott's office.1 It was beautiful, powerful, and covered by every major news network in Florida. The largest petition delivery Color of Change has ever pulled off--and we couldn't have done it without your support !
But this fight is not over--because now, Gov. Rick Scott and the Florida GOP are further abusing their power and trying to force us to stand down.
Yesterday, news broke that Gov. Rick Scott is moving to reassign 21 murder cases from Aramis Ayala.2 And last week, the Florida legislature put forth a bill that would cut Aramis Ayala's budget by $1.3 million.3 This has become an all-out attack on basic democratic principles. But what's encouraging is : it's a clear and direct response to the power we all showed last week.
That's why, now more than ever, we can't give up our fight to #StandWithAramis. The sheer number of people engaged shows the true power of people organizing. We now have hundreds of people activated on the ground who are ready to turn up and turn out. We have a plan to turn this momentum into real power--but we need your help to make it a reality.
Specifically, we need your help to fund :
The salary of an on-the-ground organizer in Aramis Ayala's district to mobilize more members.
A text-a-thon with the goal of reaching 1,000 volunteers to join the fight.
An organizing program to build prosecutor accountability teams around Florida and fight the budget cuts targeting Ayala.
Color of Change members and local organizers in Florida are coming together in a powerful way--and it's scaring Gov. Rick Scott. Last week, it only took two days for Color of Change members to raise the money to bring buses of folks from all across the state to Tallahassee. And you all made over 1,000 calls to Gov. Rick Scott's office--so much that people started tweeting about how overwhelmed his staffers were.4
At the rally we heard from people who's real lives are impacted by Aramis Ayala's decision not to seek the death penalty. We heard from Herman Linsdsay one of Florida's exonerees who spoke about his experience of being wrongfully accused of murder and sentenced to death. Florida has the most exonerations on the death penalty in the country. We also heard from Darlene Farah, a woman who's son was murdered, about her fight to save the life of her son's killer. Their will to stand with Aramis' decision on this was inspiring, and a reflection of the movement that's growing to get Rick Scott to back down.
Black people in Florida made history with their votes last November and now they are being told their choices don't matter. When voters turned out to support and put Aramis Ayala into office, they were voting her values into office. Her announcement not to use the death penalty was informed not just by the facts around its effectiveness both in safety and cost, but by the people who supported her with their votes.
It's a lie that State Attorney Ayala is not following the law by using her discretion not to seek the death penalty. It's her right as the elected official to make that call--but what's unconstitutional is for Gov. Rick Scott to come in and overstep his authority to stop her. But we know this is about more than just the death penalty. Black communities and our allies have built a movement over the last year to replace the worst prosecutors with leaders who want to change the system from the inside out--like Aramis Ayala and Kim Foxx in Chicago. Just like every other movement that has built power for Black people, this movement is being met with anti-Blackness, right wing resistance, and anti-democratic tactics intended to keep our communities trapped under the leadership of white conservatives.
But we can't back down now, nor ever, to bullies like Rick Scott. Will you help us raise enough money to keep organizing in Florida and ensure Aramis Ayala is protected ?
Arisha, Rashad, Scott, Clarise, Malaya, Enchanta, Anay, and the rest of the

Color Of Change

team
References :

---