Bill O'Reilly must not be sent on vacation
he is being investigated for sexual assault.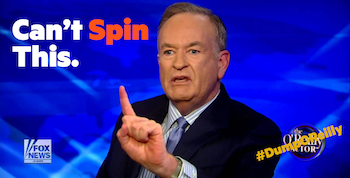 Fox News can't cover for him this time. Call Fox News CEO
James Murdoch and tell him to cancel The O'Reilly Factor.
On Tuesday, Bill O'Reilly announced he was "taking a vacation" from his primetime show. But insiders are saying that last night's show could have been his last!1
In less than two weeks, we've pushed over 77 advertisers to drop from O'Reilly's show, leaving his viewers with hardly any advertisements except for "Elvis gospel albums and catheters." The pressure is on and Fox CEO James Murdoch can no longer ignore the over 150,000 of you that have joined together in demanding advertisers drop from O'Reilly's show.
We must keep this pressure on Murdoch and 21st Century Fox and show them there are significant costs for continuing to keep a serial sexual predator on the air. Bill O'Reilly should have been gone a long time ago – and we have information that CEO James Murdoch is ready to give O'Reilly a pink slip.
Bill O'Reilly's deplorable actions are the norm at Fox News, where a deep-seated culture of racial and sexual abuse dominate the hallways and are broadcasted daily over the airwaves. Along with the sexual assault settlements, recently filed lawsuits have come to light detailing the heinous treatment of Black employees in Fox's payroll office by Fox's long-time comptroller Judy Slater, where Black employees were constantly berated and one woman was made fun of for being a survivor of breast cancer.2
Fox's treatment of Black employees is no surprise given the war they have waged on Black communities since their launch in 1996. Fox's long history of attacking Black communities with misleading rhetoric and outright lies in order to advance an outlandish right-wing agenda has proven to be dangerous. There is overwhelming evidence these tactics shape perceptions of Black people in the minds of viewers and thus endanger Black people in neighborhoods, courtrooms, and classrooms across the country.
It is clear that the calculated and viciously divisive content that Fox televises daily is only a reflection of the bigotry and sexual violence that is embedded in the culture of their board rooms, executive meetings, writing rooms, and even payroll offices. That is why we fought hard to get Glenn Beck off of the air in 2009, the notoriously offensive show Cops canceled in 2013 and we won't stop until Bill O'Reilly is off the air for good.
Rashad and the rest of the

Color Of Change

team.
References :

---