We beat Trumpcare. Now it's time to win
universal healthcare for all Americans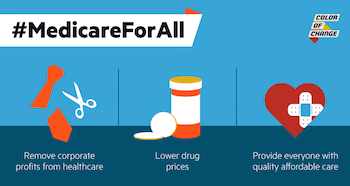 Tell Democrats to support #MedicareForAll !
Imagine an America where corporations can't profit from our illnesses. An America where everyone's coverage is accepted.An America where everyone, regardless of pre-existing conditions or income level, has access to quality care.
This thriving nation, where nobody is worried about skyrocketing premiums and elders can easily afford their prescriptions, is the America of #MedicareForAll. And after we #KilledTheBill and stopped Trumpcare in its tracks, for the first time in a long time--#MedicareForAll is in reach. But while the current #MedicareForAll bill has 84 Democrat co-sponsors, there are over 100 House Democrats who still haven't signed on to support universal healthcare for the American people. We need a bold new vision for healthcare in America--no more conservative compromises when the health of this nation is in jeopardy. It's time for our House Democrats to take a stand for the people who elected them and support universal healthcare now.
#MedicareForAll is a single payer health care system proposed by Representative John Conyers that would provide care for all Americans with no deductibles or co-pays and eliminate corporate health provider middlemen who drive costs up.And while Republicans have tried to demonize universal healthcare, the truth is that the majority of Americans support #MedicareForAll.1
But we're still waiting for many of our Representatives in Congress to catch up. After all, since Trump's election, Democrats have had to be pressured to do the right thing. 14 Senate Democrats voted to approve Trump's CIA pick--even though he was a known Islamaphobe who's considering giving the CIA the power to use torture.2 And 37 Democratic Representatives voted against a Democrat-sponsored bill that suggested stopping the Affordable Care Act repeal and supporting infrastructure.3 This is unacceptable. We need a strong Democratic opposition that truly values healthcare as a human right--and one that proposes new solutions, not just upholds the status quo.
We've won healthcare battles before. Just two weeks ago, there was a chance that Donald Trump, Paul Ryan, and their sad bunch of elected elites could rip healthcare from over 24 million Americans but with the power of the people, we saved our healthcare. 16 Republican Representatives switched from undecided to firm no's on Trumpcare after passionate Color Of Change members flooded their offices with calls. And while there were some no's from far right Republicans who thought Trumpcare was too generous--almost half of the Congresspeople who would have voted against Trumpcare did so because we reminded them that the bill would deeply harm their constituents.
We defeated Trumpcare and won the battle, but now it's time to win the war. Healthcare is a right that every single person in this country deserves--and we are determined to ensure that all of us have access to healthcare, not just the rich.
Brandi, Rashad, Arisha, Anika, Jade, Evan, Yeshimabeit, Corina, the rest of the

Color Of Change

team
References :
"Kaiser poll suggests support for Medicare-For-All is more than two-thirds." Physicians for a National Health Program, 1 March 2016. http://act.colorofchange.org/go/7684?t=7&akid=7237.1942551.T54T1w
"14 Senate Democrats Fall in Line Behind Trump CIA Pick Who Left Door Open to Torture." The Intercept, 23 January 2017. https://act.colorofchange.org/go/7301?t=9&akid=7237.1942551.T54T1w
"House Dems Were United against ACA Repeal, but 37 Still Voted against Their Own Party's Budget." Daily Kos, 13 January 2017. http://act.colorofchange.org/go/7302?t=11&akid=7237.1942551.T54T1w

---