It's time for Bill O'Reilly to go.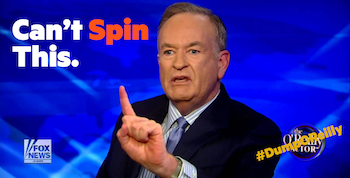 Help us get rid of Fox's cash cow.
Yesterday the New York Daily News reported that Bill O'Reilly was stronger than ever. As Fox's biggest cash cow he is untouchable, immune to the fallout of 77 advertisers and counting. We absolutely disagree. And we are ready to fight even harder.
The recent lawsuits reveal what we knew to be for years - the calculated and viciously divisive content that Fox televises daily is only a reflection of the bigotry and sexual violence that is embedded in the culture of their board rooms, executive meetings, writing rooms, and even payroll offices.
Fox has promised to investigate the never-ending stream of stories surrounding O'Reilly's despicable behavior. Do we trust them to follow through ? Absolutely not. That's why we're working nonstop to ensure that this time O'Reilly and Fox can't spin their way out of this. We anticipate opposition: some advertisers will refuse to cut ties with Bill O'Reilly. Other advertisers who have announced that they will no longer use O'Reilly's hatred to sell their products will go back and buy ads once his crimes are no longer news. This is when we launch our plan to strike back with both private and public tactics to build a critical mass of members calling Fox and putting pressure on advertisers.
We will never be able to outspend Fox, but organized people can beat organized money. By raising $50,000, we can pay for the staff time, digital ads, billboards, and technology that allow our members to get on the phone with these advertisers directly. A donor is willing to match all contributions so that we can make the most of our member's support. Dear friend, can we count on you ?
In 2009 with only six staff and very little resources we did the impossible. Glenn Beck was on his way to becoming the king of cable news when he went on air calling Obama "a racist with a deep-seated hatred of white people"1. Within days, tens of thousands of Color Of Change members were signing our petition to all of Beck's advertisers, channeling our outrage into meaningful and strategic leverage over Fox News. At the same time, behind the scenes, our staff initiated a dialogue with some of Beck's biggest advertisers, corporations including Walmart, CVS, Best Buy and Sprint. We conveyed to them the concerns of our members, and presented them with a clear choice : stop funding Beck, or become publicly associated with his racism and divisiveness.
Glenn Beck was never able to recover from the loss of 200 advertisers. But this is bigger than Glenn Beck, or Bill O'Reilly. It is even bigger than Fox News. We have a vision for a media environment where racism is no longer profitable and where purveyors of sexual violence are not rewarded in the media and on Wall Street. This requires us to continue to fight to change media networks and cable news corporations from the ground up. And it looks like working to make our members' voices heard, standing in solidarity with the women who sued Bill O'Reilly as well as the Black women employees who are fighting against the racism and hostile work environment that is Fox News.
We can win this. Help us take our work to the next level.
Rashad Robinson and the rest of the

Color Of Change

team
References :

---