After rising pressure and increased exposure of his vile beliefs, Simon & Schuster has cancelled Milo's book of hate.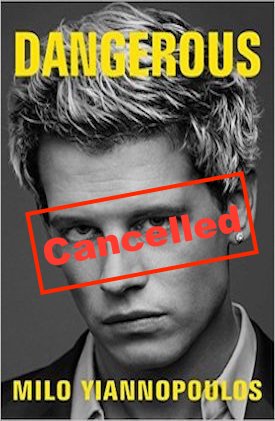 But there are still more corporate enablers of white supremacy out there - join the next fight !
You've probably already heard the news, but, you did it ! Your pressure helped force Simon & Schuster to drop Milo Yiannopoulos' hateful book.
More than 50,000 petition signers generated more than a thousand phone calls to Simon & Schuster's executive team - calling them everyday for nearly a month demanding they cancel the book.
Then, last week, old video footage of Milo tacitly supporting pedophelia made headlines. By Tuesday morning he'd lost his speaking engagements, his job at Breitbart and his $250,000 book deal.
Because of the relentless pressure of members like you put on Simon & Schuster to drop Milo's vile beliefs, this was the final nail in his coffin.
The issue here was never freedom of speech but the freedom to treat other people, particularly vulnerable ones, badly; the freedom to whip up racist, misogynistic, anti-Trans and xenophobic fears without facing any consequence; the freedom to embolden forces that represent a tangible danger to people.
White supremacists - and people like Milo who cater to them - should not be granted elevated platforms or six-figure book deals to express their ideas in public. Their ideas - no matter what academic sounding language they dress it up in - are meant to embolden forces that represent a tangible danger to people.
Any corporation that continues to provide money and a megaphone to those who seek to spread hate speech are enabling the violence and vitriol directed at marginalized communities. Cancelling Yiannopoulos's book deal is the first step in the many we must take to decrease the mainstream platform of white supremacy. Simon & Schuster made the right decision in responding to weeks of pressure and a growing list of allegations against Yiannopoulos, and made a commitment to stop the hateful rhetoric that can empower a racist and violent agenda.
Make no mistake, our communities will not stand for any corporations that aim to make a buck off white supremacy, and we will continue to hold them accountable for the ways they stand to make a profit at the expense of our lives.
Brandi, Rashad, Arisha, Evan, Jade, Anika, Corina, the rest of the

Color Of Change

team.
---