These are not "somebody else's babies," these are OUR babies.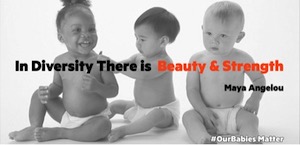 Demand Speaker Ryan remove Steve King from his leadership position
Congressman Steve King (R-IA) added his voice to the growing chorus of white nationalists around the world when he tweeted: "culture and demographics are our destiny. We can't restore our civilization with somebody else's babies."1 This is a well-known white nationalist phrase touting white civilization as a "superior civilization."
Rather than walking back his outrageous comments he doubled down in a radio interview by promoting Steve Bannon's favorite book, The Camp of the Saints - a breathtakingly vile anti-immigration book meant to justify lethal violence against non-white people.
It absolutely terrifies me to imagine that someone who promotes the mass extermination of any community could control the destiny of our country and be allowed to create a more hostile place for my or anyone's babies. Steve King is incapable of representing all Americans, and he has no right to oversee the House Subcommittee on the Constitution and Civil Justice. It's more than time for Paul Ryan to put the wellbeing of our country ahead of his party and remove Steve King now.
As the Chair of the House Subcommittee on the Constitution and Civil Justice, King is responsible for overseeing legislation that has huge impacts on our communities. Everything from protecting our right to vote, to workplace discrimination, to fair housing protections, to juvenile detention moves through King's subcommittee. King's latest comments make it clear that under his leadership, there will be no justice for people of color.
As Speaker of the House, Paul Ryan has a responsibility to ensure that committee chairs, like King, represent all people, not just white men. By failing to take strong action in response to King's white nationalism, Ryan is implicitly supporting King's hateful words. This sends a dangerous message at a time when hate crimes against Muslims, Latinos, Jews and others are on the rise.
It's time for Paul Ryan to stop dodging his responsibilities and reprimand Steve King.
This is not King's first time making boorish and racist comments. In 2013, he proclaimed that Mexican immigrant must have "calves the size of cantaloupes" from hauling drugs across the border. And just last year, he openly wondered what 'sub-groups' besides whites made contributions to civilization.2
In defense of his atrocious comments, King said "I'm a champion for Western civilization." Blatant white nationalism like this does not belong in congressional leadership.
Brandi, Rashad, Arisha, Evan, Jade, Yeshi, Anika, Corina, the rest of the

Color Of Change

team.
References :

---