GEO Group is cashing in on Trump's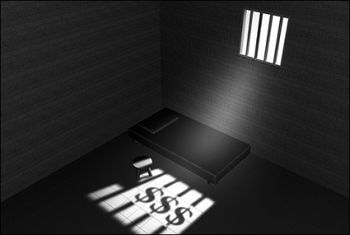 It is time for the FEC to expose the private
prison industry's scheme to make profits off of
GEO Group -- one of the country's largest and most profitable private prison companies -- had a big plan this election season. Step 1 : Pay big money to get Trump elected. Step 2 : Make private prisons rich again. It all started during the 2016 presidential campaign when GEO Group illegally donated more than $225,000 to a Trump PAC, Rebuild America NOW.1 Then as soon as he was sworn in, Jeff Sessions lifted the ban on the federal use of private prisons. And just last week, Sessions ordered 94 U.S. Attorneys to seek the harshest punishment for drug offenses. This is all music to GEO Group's ears. The company knew by bankrolling Trump's move into the White House, they would see their profits rise with each prison bed.
This all happened right in front of the eyes of the Federal Election Commission (FEC) -- the group that is responsible for overseeing campaign finance laws and ensuring electoral and democratic integrity. It is against the law for companies that receive government contracts to donate to political campaigns. The Campaign Legal Center has led the fight in exposing the profiteers and filed a complaint against GEO Group with the FEC but the FEC has failed to do its job. It is time for the Commission to step up immediately and hold GEO Group accountable.
There is no reason for private prisons to exists -- these institutions do not serve the public's best interest nor does it increase public safety. For decades, the cruel and money-hungry system has contributed to mass incarceration and the U.S. having the world's largest prison population. After years of activism and community mobilization, The Obama administration was finally making the effort and took action to create prison reform. In August 2016, former Deputy Attorney General Sally Yates announced that the Obama administration would begin phasing out private prisons.2 After the announcement, GEO Group's stock took a deep nosedive. But they kept banking on Trump to crawl their way back into big profits.
There is clear, research-based evidence that private prisons do not work. Jeff Sessions still reversed the ban on federal private prisons. Sessions said the ban on private prisons hurt the prison system's ability to meet the future needs for housing."3 This, of course, is all code for increasing the imprisonment of people for profit. And it's time to connect the dots. As soon as Sessions ended the Obama administration's ban on federal private prisons, GEO Group became the first for-profit company to receive contracts to operate private detention centers under the Trump era.4 The payoff is HUGE. Two former aides of Jeff Sessions now work as lobbyists at GEO Group to help drive their influence. They even lobbied for and wrote legislation in Texas that would increase jail time for immigrant children and end safety regulations at the detention centers where these children are locked up.5 Since 1989, companies like GEO Group have spent over $35 MILLION lobbying and supporting political campaigns to keep Black people in jail. They've lobbied for longer sentences, "three-strikes" rules, and anti-immigration legislation like Arizona's notorious racial profiling law. And they will keep giving the most money to any politician who will boost their agenda.
For decades, the private prison industry has fueled mass incarceration, disproportionately affecting Black people.Over the years, too many neighborhoods and communities of color have been demolished and decimated by the "War on Drugs," over policing and militarizing streets. We've seen these devastating effects in cities like New York, where the "Rockefeller" drug laws which set an automatic life in prison sentence for drug addicts and even those carrying just small amounts drugs. And even in Los Angeles, where in the 1980's and 1990's under the leadership of Reagan, Bush, and Clinton, homes were raided, and people were rounded up and shot and killed by police. The War on Drugs ruined lives all because of some "tough on crime" stance by greedy politicians to help the prison industrial complex grow and remain strong.
The private prison industry's stronghold on profits takes away real funding and investment in safe, affordable housing, education, jobs, and community defense for Black people. Harsh and extreme drug and sentencing policies benefit the pockets of private prison companies. As of 2014, Black and Brown people made up roughly 60% of the prison population.6 This is what GEO Group wants. The more Black people who are jailed in their unsafe and poorly operated facilities, the more money they will have in their bank accounts.
The Federal Elections Commissions has the opportunity to hold this private prison company accountable. By stepping up to investigate the wrongdoing of the GEO Group it will be a major force in exposing the corrupt nature of an industry that locks up Black people and stalls Jeff Sessions new "War on Drugs" effort and other racist policies. The FEC should not turn a blind eye to this pay to play scheme that is fundamentally hurting the lives of Black people and other vulnerable communities. A real investigation needs to happen NOW.
Rashad, Arisha, Scott, Anay, Clarise, Enchanta, Malaya, Katrese, and the rest of the

Color Of Change

team
References :
1. "Pay to Play : The giant private prison operator GEO Group may have illegally funded a Donald Trump super PAC," VICE, 12-20-2016
2. "PRIVATE PRISON COMPANY GEO GROUP GAVE GENEROUSLY TO TRUMP AND NOW HAS LUCRATIVE CONTRACT," Newsweek, 05-11-2017
3. "Justice Department Keeps For-Profit Prisons, Scrapping an Obama Plan," New York Times, 02-23-2016
4. "FOLLOWING SUPER PAC SUPPORT, PRIVATE PRISON COMPANY WINS TRUMP ADMIN CONTRACT," Citizens for Responsibility and Ethics in Washington, 04-11-2017
5. "PRIVATE PRISON CORPORATION WROTE TEXAS BILL EXTENDING HOW LONG IMMIGRANT CHILDREN CAN BE DETAINED," The Intercept, 05-02-2017
6. "Study : More People of Color Sentenced to Private Prisons Than Whites," Huffington Post, 04-23-2014

---