Trump is undermining U.S. democracy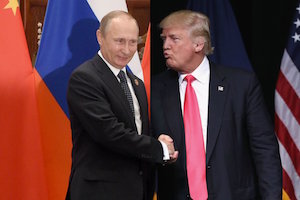 Demand Congress to start an independent commission to investigate Trump's, Pence's and all senior aides' ties to Russia.
Trump's National Security Advisor Michael Flynn just resigned after he was caught in a lie about communication with Russia.1
But here's the scary, yet unsurprising, part : Trump's administration knew Flynn lied about Russia an entire MONTH ago. And leaks from Trump aides say the only reason Trump pushed him out was because of news stories about the incident.2 Things were so bad, that Flynn was under threat of being BLACKMAILED by the Russian government.3 Trump is putting our country's safety and democracy at risk. Now isn't the time to let him and his fascist administration's lies go unchecked. We need to know who was behind Michael Flynn's call to Russia, and the truth about why.

It's past time for Congress to investigate Trump's administration--and they need to do it NOW before it's too late.
This is first and foremost about democracy. While Trump is lying about millions of voter fraud cases, the real threat to our democracy is Putin's involvement in our election and Russia's illicit ties to Trump and his administration. But even more threatening is Congress' refusal to do anything about it. Black people have fought to make our democracy real and we won't stand for any threats, foreign or domestic, to our ability to participate in free and fair elections.
There's too much evidence pointing to a cover-up of what could be acts of treason by Trump's administration. Let alone the terrifying reality that Trump and the Russian government might have rigged the 2016 presidential election. During the 2016 presidential campaign, phone records indicate that members from Trump's campaign team had repeated contact with senior Russian officials a year before the election.4 Even Trump said at a campaign rally that "he hoped Russian intelligence services had stolen Hillary Clinton's emails and would make them public."5 More disturbing, a report released publicly in January by U.S. intelligence agencies revealed that the Russian government intervened in the presidential election.6 And now Attorney General Jeff Sessions, who campaigned aggressively for Trump, is refusing to remove himself from any role that would involve an investigation.7 But Congress has a unique opportunity to once and for all stand up to Trump and his illegitimate presidency.
We certainly cannot rely on Senate republicans to do any investigation. A transparent, fair and honest investigation should be :
run by an independent commission that can formulate a much broader and deeper investigation than the Senate Republicans on the Intelligence Committee.
contain public hearings that require testimony from President Trump, Vice President Pence, Attorney General Sessions and other top aides in the Trump administration.
and should force the administration to release all relevant tapes, documents, and records.
What the Trump Administration is doing is more than an insult -- it's an injustice. For every battle to dismantle Jim Crow and abolish "separate but equal" laws, to make sure a person has the right to vote, to earn a fair wage, to gain access to quality education, to hold police and prosecutors accountability, to live and love freely, Black people have been on the frontlines. Too many people will suffer from Trump's attack on our democracy -- we can't let that happen.
Congress can no longer pretend there's a real leader in the White House. This has gone on long enough.
Rashad, Arisha, Scott, Anay, Clarise, and the rest of the

Color Of Change

team
References :

---