Trump appointed white supremacist Steve Bannon to the powerful National Security Council that can put people on "kill lists."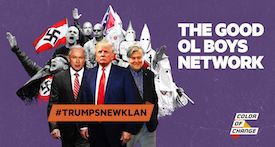 Congress has the power to stop this. Demand they immediately remove Steve Bannon from the National Security Council !
Trump has appointed his extreme white supremacist advisor, Steve Bannon, to the powerful National Security Council (NSC). Among other secretive duties, the NSC creates "kill lists" that even contain U.S. citizens.1
Trump has effectively put a white supremacist in charge of who the U.S. government will assassinate.
Trump's executive order giving Steve Bannon a seat on the National Security Council's Principals Committee is not just unprecedented and dangerous, it's also illegal.2 Even Republican members of Congress are shocked about Bannon's placement on the NSC.3 And just this weekend, the spokesperson for the NSC resigned in opposition to Bannon's "disturbing" appointment.4
Congress created the National Security Council, so they have the power to stop Bannon from sitting on the council. Now is a moment for all members of Congress, Democrats and Republicans, to choose a side. Will they trust our national security to a white nationalist with a reckless, racist, apocalyptic worldview, or will they stand up and fight back ?
Before joining Trump's team, Steve Bannon was in charge of Breitbart, an extreme-right white nationalist propaganda machine. Under his leadership, Breitbart actively published racist, anti-Semitic, xenophobic, and misogynistic content.Bannon's beliefs and actions are so alarming that even Glenn Beck has pointed out Bannon's clear white nationalist ties and called him "a terrifying man."5
Bannon believes in the dangerous lie that the U.S. is at war with Islam and that America should be the center of a new movement of right-wing populism centering on white nationalism.6 He's already worked to make this nightmare a reality by drafting the Muslim ban for Trump and openly pushing racist, sexist, and homophobic policies.
Bannon is so extreme, that many say he is the most unhinged Trump political operative. Dangerous political operatives have no place in deciding the national security of our country.
No president's political advisor has ever been a principal member of the NSC. The NSC Principals Committee is the one place where the Cabinet secretaries and top military and intelligence officials meet to discuss national-security crises, events, and policies to come up with a plan of action — or to present a set of options for the president to approve or reject. The National Security Council is supposed to be made up of career military and intelligence officials who advise the president, not political advisors like Bannon.
By elevating Bannon and downgrading the roles of the Chairman of the Joint Chiefs of Staff and the Director of National Intelligence, Trump has put politics and white supremacy over the national security advice of his top military and intelligence advisers.
Congress cannot allow a dangerous white supremacist to drive our national security policy. It has the legislative power to stop Bannon. It's time for Republicans and Democrats to pick a side.
Brandi, Rashad, Arisha, Evan, Jade, Anika, Corina, the rest of the

Color Of Change

team.
References :

---