Tell Disney CEO, Bob Iger: quit Trump's Business Council now !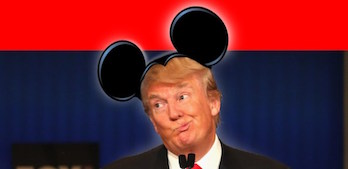 Bob Iger must stand with the families who made Disney a success--not the administration that seeks to harm us.
Disney CEO, Bob Iger skipped a meeting of Donald Trump's Business Council on Friday but won't formally quit even after Uber CEO, Travis Kalanick stepped down.1 And in the wake of Trump's violent policies, skipping a meeting is not enough--Bob Iger must #QuitTheCouncil now.
Remember, it's only due to pressure from Color Of Change members and partners that Travis Kalanick quit Trump's Business Council in the first place--now it's time to keep the momentum going and put the pressure on Disney CEO, Bob Iger to #QuitTheCouncil and reject Trump's anti-human, anti-American administration now.
Disney CEO, Bob Iger can't continue to take money from our Black, Brown, and Muslim families while advising and supporting Trump. And simply skipping one meeting, but still remaining a member of Trump's Business Council sends mixed messages. If the CEO of Disney is serious about standing for the thousands of Disney fans and customers who are Muslim immigrants, he needs to reject Trump's entire agenda--not just the parts that will affect his bottom line.
That's why we joined with our partners at Muslim Advocates, Free Press, Center for Media Justice, CREDO, and MoveOn to tell CEOs to #QuitTheCouncil now. Because at this moment in our nation's history, there are no sidelines--Iger's involvement on Trump's Business Council isn't an arbitrary gesture, he is effectively supporting and advancing the deep harm that many communities will face. We, the people, say no to corporations and CEOs who are willing to sell out American values and democratic principles for a seat at a crooked table. Bob Iger and Disney must stand with the American people and against Trump's entire administration of hate.
It's clear that Trump's Muslim ban is more about solving imaginary problems, protecting his business interests and creating a climate of fear and anti-Muslim bigotry than it is about protecting the country from serious threats. While Trump claimed the purpose of his Muslim ban was to protect the United States from terrorism, he targeted African and Arab countries whose citizens haven't been responsible for any American deaths. In fact, countries who have disproportionately been responsible for terrorism are missing from the Executive Order--and they happen to be the same countries that Trump has business ties to.2 We won't stand for any corporate enablers or lying CEOs who are playing the same game that Trump is--pretending to protect us and throwing marginalized communities under the bus in the process. Bob Iger must quit the Business Council now.
Bob Iger is placing access to power over people's lives and putting money over this country's future. Disney has been able to become a successful company because of families of all colors and creeds. It's unacceptable that they're willing to cooperate with an administration who seeks to harm their base and throw away the very people who made them a success in the process.
This is not about politics. It's not about Democrats and Republicans, or the political left and right. Trump is separating children from their mothers and depriving families of food in an effort to pander to anti-Muslim bigotry in this country. His violent rhetoric and actions are bringing real life consequences for vulnerable families.
Brandi, Rashad, Arisha, Anika, Jade, Evan, Bernard, Corina, the rest of the

Color Of Change

team
References :
"Disney's Bob Iger Won't Attend White House Meeting." Deadline, 2 February 2017. http://act.colorofchange.org/go/7407?t=9&akid=6942.1942551.fnEsvB
"Who Hasn't Trump Banned? People From Places Where He's Done Business." New York Times, 29 January 2017. https://act.colorofchange.org/go/7381?t=11&akid=6942.1942551.fnEsvB

---