Mayor Gimenez is already siding with Trump and refusing to declare Miami a Sanctuary City.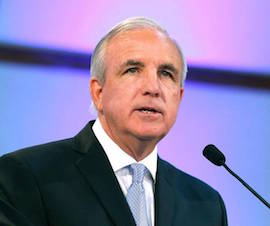 It's time for Mayor Gimenez to stand up to Trump's racist agenda. Call the Mayor now.
Miami Mayor Carlos Gimenez just caved to Trump's anti-immigrant agenda.
In just the first week of Trump's fascist administration, he signed a string of executive orders that target and criminalize immigrants.This includes putting a ban and a suspension of visas on immigrants and refugees from Muslim-majority countries, and eliminating federal funds from cities that are declared as Sanctuary Cities.
Right after the executive order was signed, Mayor Gimenez announced that Miami would comply with federal immigration authorities.1 He has long resisted declaring the city of Miami a Sanctuary City. While many U.S. mayors immediately stepped up to publicly denounce Trump and to remain vigilant in protecting immigrants, Mayor Gimenez -- who is a Cuban immigrant -- showed no empathy and instead gave in to Trump's racist crusade against Black and Brown immigrants.
But the pressure is mounting. People all across the country continue to rally and mobilize against Trump's anti-immigrant actions and to demand local leaders to resist Trump. Our communities cannot afford to have local leaders chose to prop Trump up on a pedestal instead of investing in safety and healthy futures for people.
Miami has one of the largest Black immigrant populations in the U.S. Roughly 34% of the Black population are immigrants, a large majority from the Caribbean such as Haiti and Jamaica.2 Like every other community, this is where people work, go to school, raise families, and create businesses. Communities like Little Haiti, a well known neighborhood in Miami that is home to many Black immigrants and refugees, could become targets for raids and deportation if Mayor Gimenez refuses to protect them. Declaring and expanding Sanctuary City policy in Miami will create stronger and inclusive security for everyone.
It's time for Mayor Gimenez to stand up for the people who fight daily for the well-being of their communities.
Miami like the rest of the country continues to deal with the over policing and punitive, state- sanctioned violence against Black people. By agreeing to comply with federal immigration officials, racial profiling and police violence will increase and that will affect both Black immigrants and non-immigrants.
The mayor still has a choice. Mayor Gimenez can choose justice -- stand alongside the people and resist Trump. Or he can choose to help spread racism xenophobia, and bigotry. People will continue to fight and be in solidarity for all those who belong and deserve safety. He has a choice.
Rashad, Arisha, Scott, Anay, Clarise and the rest of the

Color Of Change

team.
References :

---