Justice is still NOT served.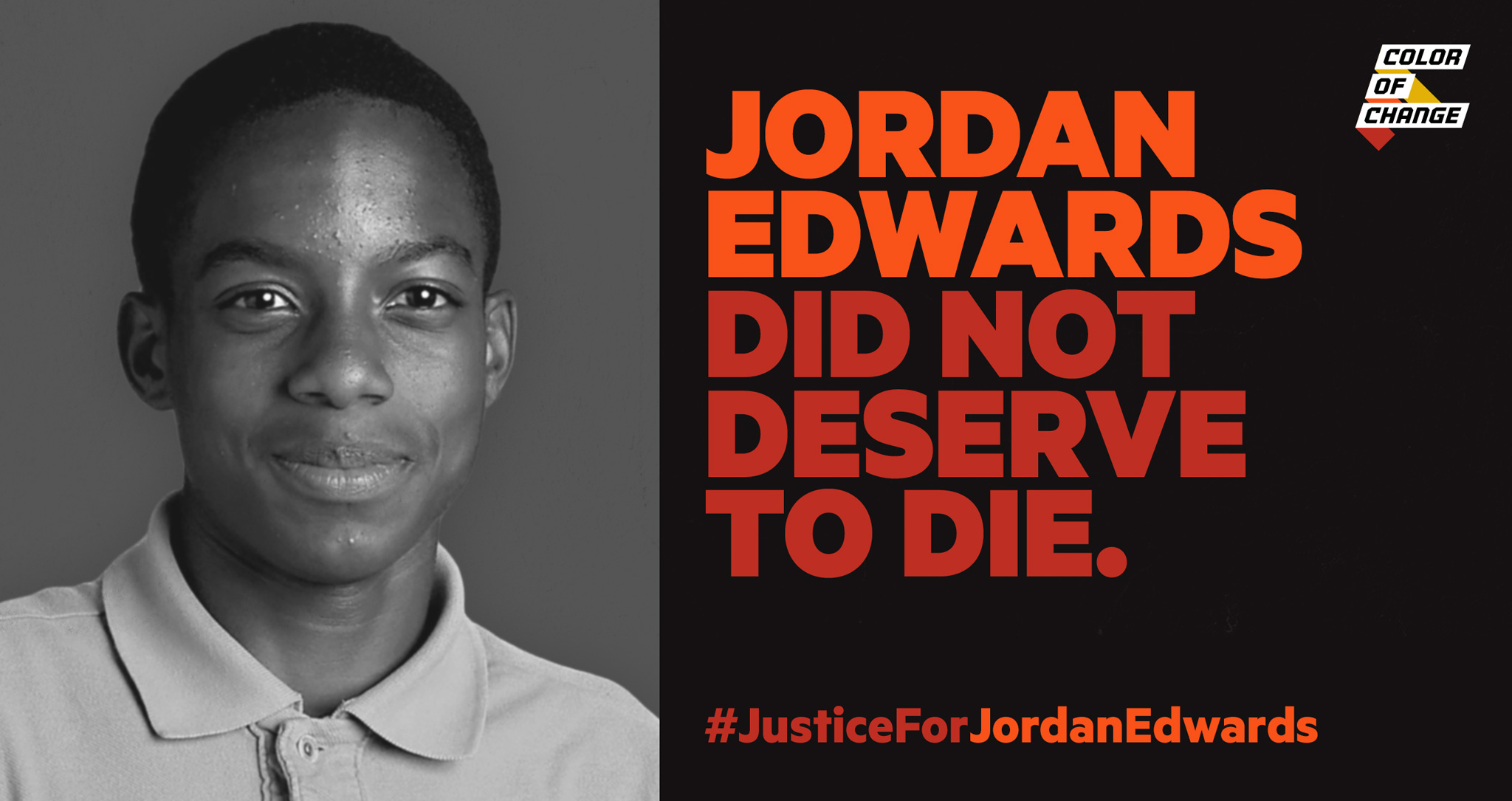 Demand DA Faith Johnson appoints a special
prosecutor who will be fair and fight for the
The Edwards family was forced to do the unthinkable -- say goodbye to their son, their brother, a young child with hopes and dreams that will no longer be seen. No family should endure such pain. After being fired, Jordan Edwards' killer has been charged with murder1 -- it is a crucial first step, but it doesn't ensure justice will be served.
That's why Jordan Edwards' family is calling for the assignment of a special independent prosecutor to the case.2 District Attorney Faith Johnson did the only logical thing in charging someone who murdered a child, but there is no time for politics to interfere. DA Johnson, who's up for election in 2018, is too close to the Balch Springs Police--we need someone who will center the family first. DA Faith Johnson must show real leadership and allow for a special prosecutor who will be fair, impartial, convict Roy Oliver, and investigate all wrongdoing by holding the entire Balch Springs Police Department accountable.
It was almost three weeks ago when Jordan and his brothers were leaving a party and Roy Oliver shot at the vehicle, killing Jordan right in front of his brothers. This is the nightmare his brothers will have to live with for the rest of their lives -- witnessing their brother Jordan die right before their eyes. That is a trauma that cannot be undone. To make this heinous crime even more tragic, Balch Springs Police Chief Jonathan Haber and all the officers involved lied and attempted to cover it all up. Roy Oliver had a history of anger and aggression yet Balch Springs Police Department still allowed for him to be a police officer. The man, who killed Jordan Edwards should not have been a police officer in first place.
Prosecutors hold a key elected position in holding law enforcement accountable. Yet, time and time again, prosecutors have failed to do their job and have failed to implement real systemic changes to policing. In Chicago, former Cook County State's Attorney Anita Alvarez waited 13 months to bring charges against the Chicago police officer who shot teenager Laquan McDonald 16 times in October 2014. In Ohio, former Cuyahoga County district attorney Tim McGinty oversaw grand jury proceedings that led to no charges being filed against the officers responsible for the death of 12-year-old Tamir Rice.3 Too many times, prosecutors have been notorious for letting cops off the hook because they would rather seek convictions that ultimately criminalize Black people and polish up their "tough on crime" stance that they think will get them re-elected. There is no time to have a prosecutor who cares more about holding onto power. Instead, there should be a special prosecutor who will put the Edwards family first.
The painful reality is that the Edwards family is among a long list of Black families forced to live without their loved ones because of racist policing and state violence. Jordan should be alive today. For years, our communities have been building power on the ground to drastically change the criminal justice system and put an end to police brutality.The fight won't stop. With U.S. Attorney Jeff Sessions already working hard to roll back police reform at the federal level4, local prosecutors must step up and do better to implement real changes in policing. A prosecutor should work tirelessly to honor the victim and do all they can to make sure that families get the closure they need. That is why local prosecutors must know if they remain on the wrong side of history and choose bad cops over protecting our people, then our cries for justice will grow stronger. District Attorney Faith Johnson needs to respect the wishes of the Edwards family now.
Rashad, Arisha, Scott, Anay, Clarise, Enchanta, Malaya, Katrese, and the rest of the

Color Of Change

team
References :

---