Direct threats to our team members have risen
since Trump was elected President.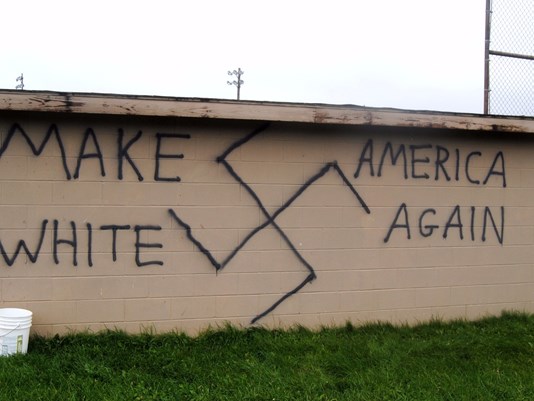 I need your support to help us implement new
security measures to ensure we protect the
safety of our entire team as we continue to
Color Of Change will never back down from fighting Donald Trump and his enablers but as the Executive Director of the organization, I must admit that one thing does scare me : the thought of someone attacking a member of our staff. The atmosphere Trump has created emboldens white supremacists to act upon their hate and just two months ago, in March, a Black man was killed not so far from our office in Manhattan by a white supremacist who traveled to New York with the purpose of killing Black men. These are the types of threats that we as Black people continue to face in Trump's America.
Threats to Color Of Change staff have been on the rise since Trump was elected and with our recent win of getting Bill O'Reilly fired from Fox News the threats have become even more specific. Threats have targeted specific staff members, explicitly writing what they want to do such as "I hope we meet...I will kill you."
We won't sit idly by as people threaten our staff. We are working to beef up our physical security to make sure every team member feels safe at work. We've had an expert who has handled threats against the Southern Poverty Law Center do a thorough audit of our physical security and make recommendations. But I need your help. Keeping the staff safe is something I take incredibly seriously.
We must act promptly to ensure that our team is safe, protected from white supremacists, internet hackers, and others who fear the power that an independent Black-led organization has in this political moment. Since the election, the number of hate emails we have received have increased by 100%. A recent threat email detailed how someone wants to "run over" one of our team members and "not think twice". Recently, I was walking down the street at night and approached by a white man wearing all camouflage, he knew details about me and our organization, and yelled racist rhetoric directly at me. We know that fearless campaigning creates enemies in a dangerous world where racists are emboldened by Trump's rise to power to act upon their hate.
We will continue to work relentlessly to oppose Trump, block his agenda, call out corporations that enable white supremacists, fight for the Affordable Care Act, oppose the Dakota Access Pipeline, work to end Trump's Muslim ban and registry and seek to end his presidency as soon as possible.
But we are not naive. We know that we are doing some radical work, opposed by Mr. Trump and his supporters.The Southern Poverty Law Center has already reported over 1,000 incidents of hateful harassment since election day. Because of this we must also work to protect ourselves, making sure that we can continue to do the work most needed right now !
We find ourselves having to think about our physical and cyber security in ways we never have before. Our team is ready to do this and we have already begun implementing structures and safety measures to make sure that our emails, research, and other online work will not be compromised and to also ensure that our offices and staff are safe. But to put it frankly we need to be doing even more than we already are and seeking funds for security expenses are challenging to secure from institutional funders due to their restrictions. We are so happy that we have a base of supporters like you that can support us in these critical times and in such critical ways. We are aware of the threats we're up against and that's why I'm asking you to support our team as we work relentlessly to oppose Trump.
To get ready for emerging threats from increasingly bold and energized right-wing extremists we will be :
Conducting a detailed security assessment of all Color Of Change operating locations

Developing a detailed threat assessment and identifying our vulnerabilities to each type of threat

Mapping out the mitigation efforts we need to put in place to reduce our exposure and keep our information, programs, and people safe

Training all Color Of Change staff in how to deal with physical security concerns such as Active Shooter threats and terrorism
Developing a comprehensive strategy to protect our sensitive data from loss, damage or compromise from current and future cyber threats
Dear friend, in this current political moment we are facing a lot, it can be overwhelming and I'm sure you feel it as well ! This is our time to fight like we never have before, and the team at Color Of Change is fired up and ready to go ! But, in order for us to fight back and win on the issues that are important to us we must be safe ! Keeping my team safe is one of the most important things for me right now, none of this work would be able to happen if we can't show up in the ways that we need to.

---