Sinclair Broadcast Group is funneling Trump's lies into 40% of U.S. homes.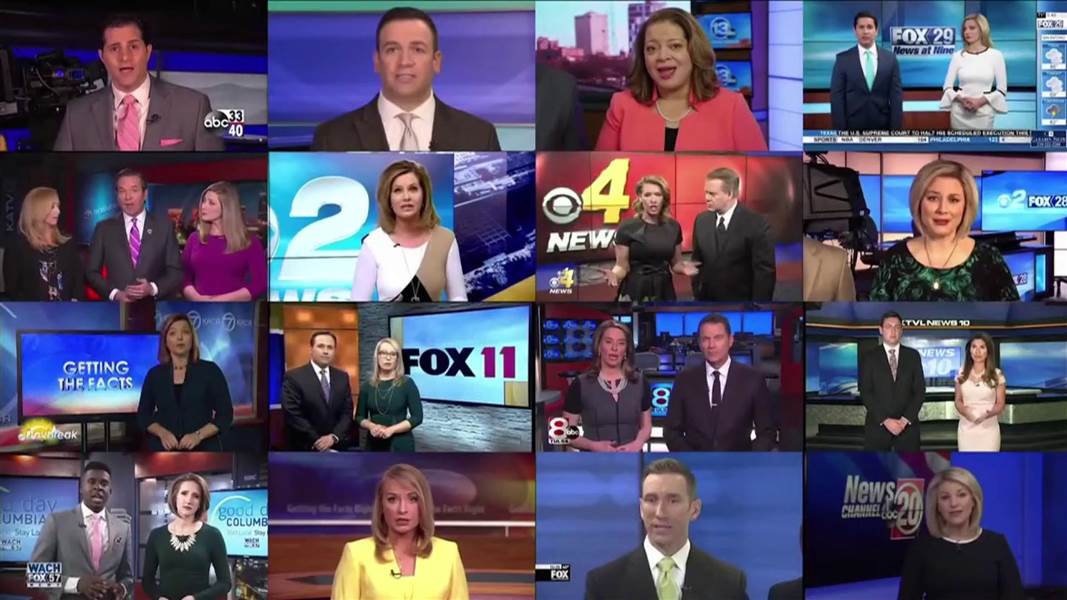 Demand that local advertisers boycott Sinclair's right-wing propaganda.
By now, you've probably seen the video of dozens of local news anchors around the country reciting in unison a script parroting Trump's war on the media, warning about "fake news."1 The script is the brainchild of the Sinclair Broadcast Group, an ultra-conservative media corporation that owns almost 200 television stations that reach 40% of the U.S. population.
If Trump's FCC approves their plan to buy the Tribune Media Company, Sinclair will be able to pump their right-wing propaganda to over 72% of U.S. homes.2
Sinclair Broadcast Group has often been compared to Fox News, but Sinclair is much more dangerous. Unlike Fox News, where some people know the content is biased, Sinclair is forcing trusted local anchors to parrot Fox-type content that undermines trust in the rest of the media and promotes damaging stereotypes. And with 3 out of 4 U.S. adults regularly consuming local news, millions of people are unknowingly peppered with pro-Trump propaganda.3 But, just like Fox News, Sinclair Broadcast is vulnerable to pressure from their core advertisers. As we've done so many times in the past - like with Glenn Beck and Bill O'Reilly - we can hold advertisers accountable for funding Sinclair's pro-Trump propaganda.
While Sinclair claims they're focused on "fair and objective reporting," their close relationship to the Trump administration, and unquestioning repetition of Trump talking points proves this to be false.4 According to Senior Advisor (and Trump son-in-law) Jared Kushner, Sinclair media outlets were given increased access to the Trump presidential campaign in exchange for Sinclair stations broadcasting Trump interviews without critical commentary.5 Boris Epshteyn, a former high-level member of the Trump administration who wrote the infamous Holocaust Remembrance Day statement that failed to mention Jewish people who died in the Holocaust, was hired by Sinclair shortly after his departure from the White House and is now their Chief Political Analyst.6 His "Bottom Line with Boris" segments are "must runs" and required to be aired on Sinclair stations 9 times per week.7 Epshteyn's commentary is often nothing more than just a parroting of White House talking points, including harmful rhetoric that minimized the level of hatred and violence committed by white supremacists in Charlottesville last summer.8
The Sinclair threat goes beyond spreading pro-Trump propaganda. When news outlets lack accountability, they let down Black people with racially biased coverage and damaging stereotypes. We know from our report "A Dangerous Distortion of Our Families: Representations of Families, by Race, in News and Opinion Media," that Black families are erroneously over-represented as lacking stability and more likely to be on welfare.9 These harmful depictions of Black families in the news media influence perceptions of Black communities and can dictate policy. Inaccurate and damaging portrayals of Black families gives false support to Trump administration policies that actively oppress Black people and communities such as increased policing in schools and communities, further demonizing of Black immigrants, and more cuts to social safety net programs.
Local news stations are often seen as neutral reporters, but the reality is that they are owned and run by major corporations like Sinclair Broadcast Group. Sinclair shouldn't get to exploit our trust in local journalists and use that trust to promote propaganda from an illegitimate presidential administration. Even though Sinclair is a major media company, they rely on local advertisers for much of their revenue. Because of the intimate connection local advertisers have with their communities, our voices are much more likely to be heard by them. And we've already seen this in action with Democratic Congressional candidate Amy McGrath removing her ads from all Sinclair owned TV stations in her district.10
In an election year, political ads like the ones Amy McGrath pulled will be crucial to Sinclair's bottom line. If we put pressure on other local candidates and corporate advertisers we can create a mass exodus of Sinclair advertisers and force them to abandon Trump's propaganda.
Arisha, Rashad, Brandi, Jade, Johnny, Future, Corina, Chad, Mary, Angela, Saréya, Eesha, and the rest of the Color Of Change team
---
References :
---