Leyla Martinez started a petition to demand
District Attorney Sharen Wilson request a
resentencing hearing for Crystal Mason !
Crystal was sentenced to 5 years in prison for voting !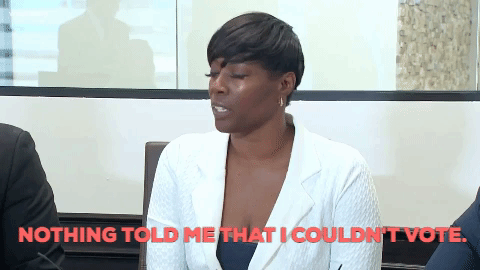 Tell Tarrant County DA Wilson : We want
#Justice4Crystal
!
Last month,

Crystal

Mason, a Black mother, was sentenced to 5 years in prison for voting while on probation. Like 96% of Black
women in this country, she thought it was imperative to vote in the 2016 Presidential election given all that was at stake for Black women.

Crystal

was denied her freedom to vote because she is a formerly incarcerated person with a non-violent felony. A year later she was charged with voter fraud by Tarrant County Deputy District Attorney Matthew Smid.

Crystal

does not deserve to be in jail. She tried to vote believing it was the right thing to do.
I am confident that if we can get a resentencing hearing for

Crystal

. We can help restore her faith in her personal power and the power of community. Please, stand with me to ensure Crystal is not sent back to prison !
Crystal

is facing jail time because she misread the rules. The official who gave her the ballot failed to inform her that in the State of Texas people who are on probation are unable to vote. She made an honest mistake by casting her vote. There are 6.1 million people in this country that are cut off from the freedom to vote simply because they have a criminal record. Of those 6 million people, Black and Brown people are being disproportionately disenfranchised because of mass criminalization. Mass incarceration is being used as a way to enforce the "Three Fifths Compromise," since people of color are incarcerated at a disproportionate rate. Both currently and formerly incarcerated people are being counted as citizens for tax and congressional representation but cannot vote in elections that directly affect them.
As a formerly incarcerated woman, I'm proud of

Crystal

for exercising her right to vote. I do not believe that a criminal history should strip anyone of their right to vote. Being taken away from your family and children is not to be taken lightly. It is a devastating experience. I do not believe that

Crystal

would have willing jeopardized her freedom and her ability to be there for her family, again.

Crystal

is my hero. I am committed to fighting for her to stay home, will you join me ?
State District Judge Ruben Gonzalez made a mistake by sentencing

Crystal

to five years without her family and the people who need her the most, her children. She wanted to secure a better future for her family and is now being punished for it. Black women are the ones who are constantly on the frontlines ready and willing to stand in the gaps for the rest of our community. Black women are showing up and showing out in record numbers to exercise their freedom to vote for what's best for all of us. Now it's time for us all to stand up for this Black woman !
We have never seen this type of punishment for voter fraud happen before. There are several accounts of white people across the country who've willingly committed voter fraud to only get slaps on the wrist. For example, the same year

Crystal

cast her vote a white woman in Iowa attempted to vote for Donald Trump twice and was only told to pay a fine. She walked away with a clean record and no jail time.
In fact, Justice of the Peace in Tarrant County, Russ Casey, recently admitted to turning in fake signatures to win his election. He is only being sentenced to two years in jail. The fact that

Crystal

is being sentenced to 5 years for an honest mistake is clearly retaliation against this Black woman who was acting in her power. The time she has been sentenced to serve is just not fair. She is now traumatized by this and does not want to vote again. We cannot let white nationalist bully tactics keep us from being powerful. Stand with me in demanding justice for

Crystal

!
Leyla Martinez

---