Defend Our Sister Chikesia !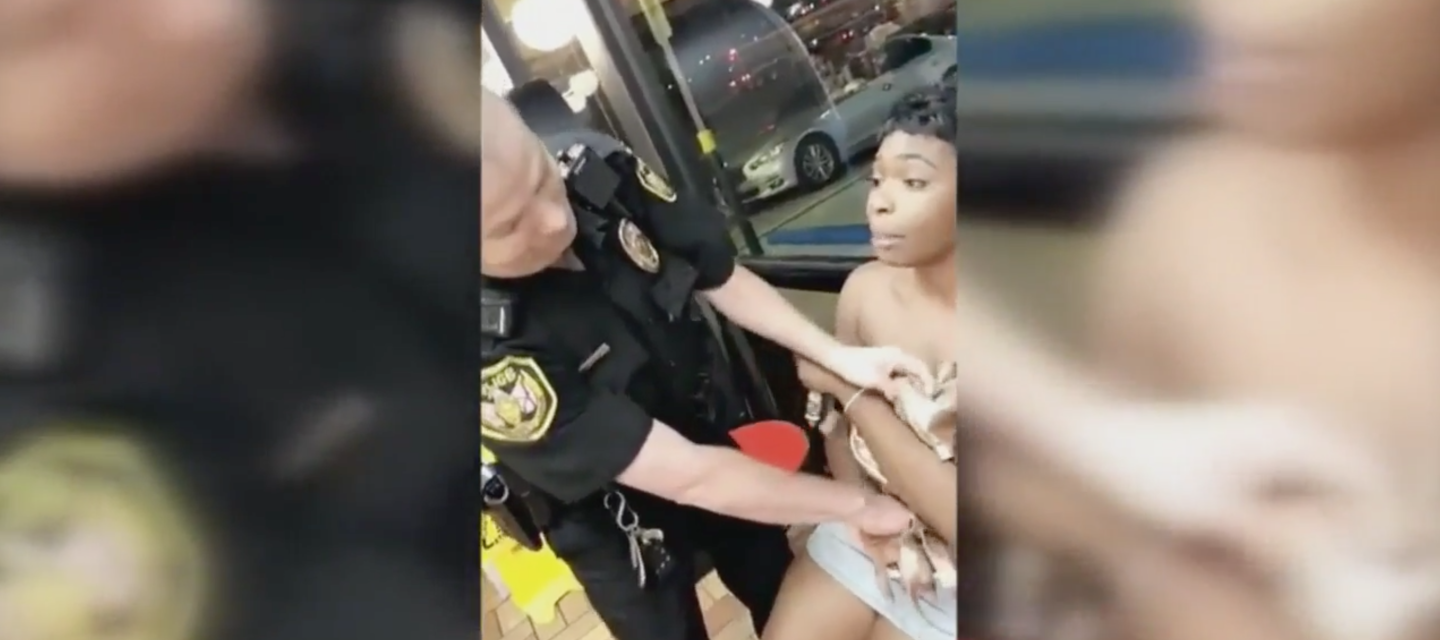 Tell Mobile County DA Ashley Rich: Drop ALL charges against Chikesia Clemons !
While America still reels from two Black men being arrested for

#WaitingWhileBlack

at Starbucks, a Black woman has now been threatened and wrongfully arrested for the exact same thing.
On Aprill 22nd, 25-year-old Chikesia "Kesia" Clemons was dragged out of a Waffle House in Saraland, Alabama by three police officers.1 Chikesia was waiting on a Waffle House employee to give her the District Manager's information to dispute a charge when someone called the local police on her. A cell phone video has gone viral showing an officer forcing Chikesia out of her chair, slamming her to the ground and exposing her breasts while two other officers wrestle with her on the floor.
There was no reason to arrest Chikesia. The officers who assaulted her are the real criminals.
Now Chikesia has been charged with resisting arrest and disorderly conduct.
Chikesia and her friend Canita went to grab a late night meal after a night of Black joy that was eventually met with white aggression. Because Chikesia refused to be disrespected by the Waffle House staff and local police, she was brutally harmed by three white men and no one was there to defend her. Kesia was later arrested and bailed out on a $1,000 bond. Meanwhile, the Saraland Police Department will not release the names of the officers let alone hold them accountable for their predatory and abusive behavior. We have to disrupt this pattern of behavior by demanding accountability.
Far too often, when Black women assert our rights as a customer or human beings, we are stereotyped as being too loud and too angry. We deserve dignity and respect for no other reason than the fact that we exist. The abuse of Black women in this country is so normalized that in a crowded Waffle House, the only person who came for Chikesia's defense as she was viciously brutalized was her sister-friend Canita. For centuries, Black women have had to defend and protect ourselves from the harsh realities of state violence while the world watches silently waiting for their turn at bat. Police Departments across the country are deliberately not tracking cases of excessive force against Black women. However, we know that it's happening, and thankfully Chikesia is still with us to tell her story. In 2016, the Department of Justice released an investigative report on the Baltimore police department and it showed countless cases of misconduct being swept under the rug and completely forgotten about with no consequence.2Sandra Bland, Charleena Lyles, Tanisha Anderson, Chikesia Clemons are names we'll never forget. They can't erase all of us. This is why we must stand for Chikesia !
The only person there to defend Chikesia in this horrific and traumatizing incident was another Black woman, her friend Canita. Chance The Rapper tweeted that we need to "protect Black women" and be "willing to fight" for them.3 For us. We cannot remain silent about the mistreatment of Black women in this country at the hands of everyone, especially law enforcement.
Earlier this month, news broke that two Black men, Rashid Nelson and Donte Robinson were wrongfully arrested at a Philadelphia Starbucks for 'waiting while Black.4 Being Black is not a crime, but racism coerces people, especially law enforcement, to perceive Black people as a threat. Rashid, Donte, and now, Chikesia have been added to the long list of Black folks who were wrongfully criminalized. This has to end. Black people deserve respect and dignity !
Enchanta, Arisha, Rashad, Scott, Malaya, Marybeth and the rest of the

Color of Change

Team.
References

---