Finance and tech companies are enabling white nationalists groups and allowing them to fundraise on their platforms.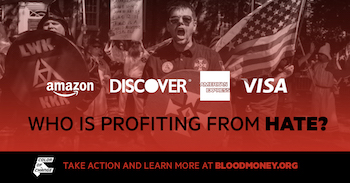 Help us hold these corporations accountable for enabling hate !
After billing "Unite the Right 2" as another major white nationalist event, barely two dozen white nationalists showed up outside the White House to celebrate the terrorism they caused in Charlottesville last year. Their limited numbers were dwarfed by the thousands of counter-protestors who showed up to drown out their calls for hate and violence.
The inability of Jason Kessler and his white nationalists followers to assemble a rally anywhere close in size to last year's "Unite the Right" makes it clear that the efforts of Color Of Change members over the last year to kick white nationalists off of payment platforms is having a major impact on their ability to organize at scale. But white nationalists are still dangerously emboldened, committing twice as many murders in 2017 as they did the year before, organizing additional violent rallies, continuing to push for the corporate and government policies that endanger everyone in our communities, and are running for elected office in record numbers. 1 2 3 And it's companies like Amazon and Discover that are playing a major role in funding and enabling these hate groups.
The hate and violence of these groups thrives because of the legitimization of the Trump administration and corporate enablers that profit from hate. Companies like Discover and American Express continue to allow groups like the Proud Boys to process donations on their platform, while Amazon sells racist propaganda for nearly a dozen hate groups and numerous white nationalist leaders across their platforms.4 This has to end. So far, in partnership with members like you, we have pushed payment processors like PayPal and MasterCard to work with us to cut dozens of hate groups off from more than 150 funding sources. Take a moment to call Discover and Amazon and demand they don't profit from white nationalists.
The abysmal turnout of yesterday's "Unite the Right 2" rally is proof that Color Of Change's Blood Money campaign is hitting hate groups where it hurts - their wallets. Jason Kessler, the organizer of last year's rally and this year's, was flailing for funds as the rally date approached - begging for his followers to mail him cash and checks because he was kicked off of PayPal.5 But companies like Amazon and Discover are still allowing hate groups to use their platforms, which is undoubtedly helping violent groups like the Proud Boys and Patriot Prayer to organize armed rallies like the one they had in Portland just last week.
Brandi, Rashad, Arisha, Jade, Evan, Johnny, Future, Corina, Chad, Mary, Saréya, Angela, Eesha, Samntha, and the rest of the

Color Of Change

team
---
References :

---