Facebook should not be partnering with a Trump spokesperson.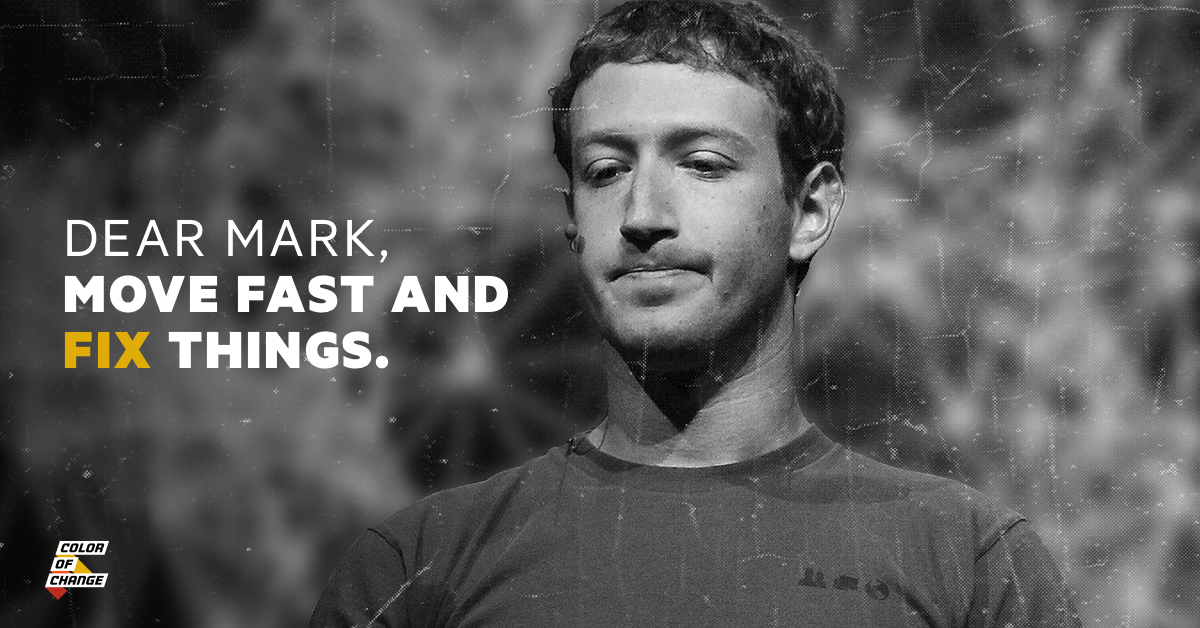 Tell Facebook to drop the anti-Black "conservative bias review"!
Jon Kyl, an extreme anti-civil rights, anti-LGBTQ and anti-Muslim lobbyist who is heading Facebook's bogus "conservative bias" review, has been tapped by Donald Trump to shepherd his Supreme Court pick, Brett Kavanaugh, through the confirmation process. Make no mistake - - Jon Kyl will play an integral role in pushing the Senate to confirm Kavanaugh and allow him to undo a century's worth of hard fought civil, LGBTQ, immigrant, and women's rights victories.
Facebook now has a decision to make. They can allow a Trump spokesperson committed to undermining the rights and safety of Black people to dictate what is or isn't bias on their platform, or they can end their sham "conservative bias" review panel once and for all.
Over the past few months we've seen an escalation from Trump and his administration that's nothing but abject racism, sexism, and anti-immigrant bigotry. Anyone associated with this administration has no business being an arbiter of social media biases.
References :
"GOP ex-Sen. Jon Kyl will be the "sherpa" for SCOTUS nominee", CNN, 9 July 2018 https://act.colorofchange.org/go/74398?t=7&akid=14995%2E1942551%2ES0ncWN
For more information about this campaign, please see our previous message below.
---
A Cambridge Analytica whistleblower just confirmed they used data collected from Facebook to actively suppress Black votes during the 2016 election.1 Now Facebook has recruited an organization steered by one of Cambridge Analytica's board members, Rebekah Mercer, and an extreme anti-civil rights, anti-LGBTQ and anti-Muslim ex-Senator, Jon Kyl, to oversee a "conservative bias review."2
Facebook's decision to launch this nakedly partisan review into repeatedly debunked myths about anti-conservative bias on their platform at the same time as the long overdue independent civil rights audit falsely equates the everyday hate and violence directed at Black people on Facebook with non-existent political bias. Considering that Cambridge Analytica worked with ex-Trump campaign manager Steve Bannon to "discourage or demobilize" African-Americans from voting it is deeply alarming that Facebook would recruit Rebekah Mercer's far-right Heritage Foundation to be apart of any process at Facebook.3
These troubling developments call in question Facebook's commitment to properly carrying out the civil rights audit. The only way for Facebook to secure the integrity of the civil rights audit and cut ties with all Cambridge Analytica leaders is to drop this sham "conservative bias review". Doing so will allow civil rights auditor Laura Murphy and her team the space they need to investigate Facebook without distracting and false accusation of political bias. The safety and civil rights of Black communities is not a partisan issue.
After over a year of pressure from

Color Of Change

members and partner organizations, Facebook finally agreed to a civil rights audit.4 That news was dampened when it was simultaneously announced that Facebook would hire the far-right former U.S. Senator Jon Kyl and the Heritage Foundation to conduct a separate partisan investigation into baseless claims of bias against conservative social media personalities.5 Kyl has a long history of opposing civil and LGBTQ rights and the Heritage Foundation has spent years exploiting anti-Black narratives to create discriminatory policy, deny the existence of racial bias, and peddle Islamophobia.6 As long as Facebook looks to engage in political theatre and pander to conservative politicians and media personalities, we cannot trust that they will do the job right.
Black users have found Facebook's platform to be a hostile environment for years. From silencing Black women when they share their stories about the racism they experience on social media7, to their classified documents that permit their censors to allow hate speech against Black children but not white men8, Facebook has put Black communities at risk through their erasure of Black activists voices and inability to tackle hate speech on its platform.
This decision only further demonstrates how ingrained anti-Blackness is at Facebook and further demonstrates how badly the civil rights audit is needed. The only way for the integrity of the civil rights audit to be secured is for Facebook to drop the "conservative bias" review now !
Brandi, Rashad, Arisha, Jade, Evan, Johnny, Future, Corina, Chad, Mary, Angela, Saréya, Eesha, Samantha and the rest of the

Color Of Change

team
---
References :

---