Yesterday was "Independence Day." Help us win tangible freedom in the face of Trump's daily oppression.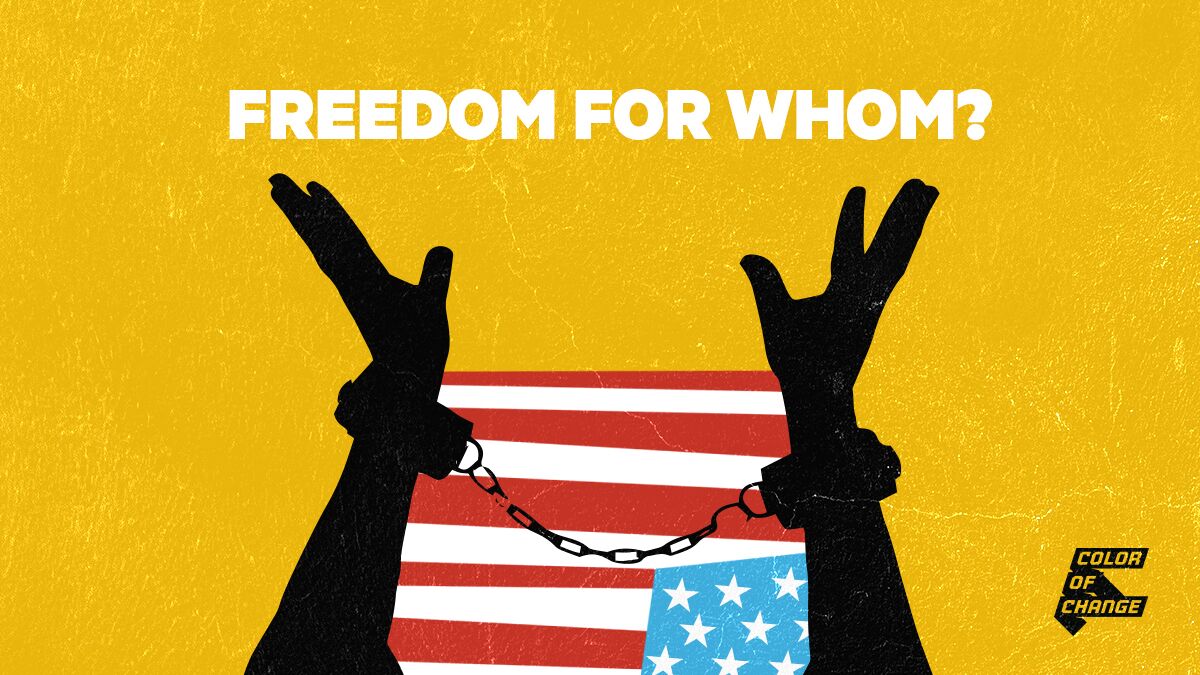 Support our work to free Black people and end cash bail.
Dear friend,
In 1852, Frederick Douglass asked, "what to the slave is the 4th of July ?" This year, we call on you to ask a similar question--what to the immigrant, to Muslims, and to Black people is the 4th of July ? Sadly, with the current state of the country, we are reminded of the answer to this question every day when we see Muslims being banned from entering the country, Black people being mercilessly killed by the police, our people being deported, and families being separated due to the racist criminal justice system and immigration laws. After yesterday's "Independence Day," we are reminded of all the ways we are not yet free.
Despite this, our commitment to freedom guides our work at

Color Of Change

every day. And it's why we have been building a movement to end the practice of cash bail across the country and free Black people from jail who are only there because they can't afford the cost of freedom. We are working to literally set Black people free from cages--but it's only possible because of the support of people like you, my friend.
For us, the work to end cash bail started after the unjust death of Sandra Bland. She died in a Texas jail after being violently arrested by a cop who pulled her over for failing to signal a lane change. She would have never been in jail if it weren't for a judge assigning her an extremely high bail that she couldn't afford. Sandra Bland should be alive and deserves the "freedom" America promises today--but she died because of a bail industry that rips freedom from Black families every day. Since then, we've been building a movement to end cash bail, that has been joined by Jay Z, John Legend, countless politicians and decisionmakers, and thousands of everyday people who are exploited by bail every single day. We are winning tangible freedom for Black folks across the country with the movement to end cash bail and we aren't going to stop--but we need your support.
Here is some of the impact we've been able to make with the donations of

Color Of Change

members :
Over the past two years, we've helped bail out hundreds of Black women from jails in over 20 cities and build National Bailout, a national network of organizations fighting to end cash bail.
We leveraged our power to convince the largest advertising providers, Google and Facebook, to divest from the bail bond industry and stop allowing it to push predatory ads on their platforms.
We released a detailed report & produced a video with John Legend explaining how the bail bond industry works - it's gotten over 3 million views.
This year, we were able to push District Attorneys in places like Philadelphia and Chicago to make commitments to stop seeking cash bail.
We organized our members to push local and state governments to pass laws ending cash bail for good, and release thousands of people unjustly held in jail.
Freedom and independence are held only by a few in America, a country that has a long history of separating families. America has separated indigenous families through colonization and Black families through slavery. And today, mass incarceration, cash bail, and the criminalization of immigration are separating Black and Brown families across the nation.

Separating families is not new for this country--but as long as America has been separating us we have been fighting back.
Everyone deserves to a future where our people are not hunted and murdered for being Black, thrown in detention centers for being immigrants, or banned from travel for being Muslim. We're building the power needed to make freedom a reality, and the work to end cash bail is just a part of it. But in order to continue building this power and fighting back, we need your support.

Color Of Change

does not accept any donations from corporations so that we can maintain our autonomy and integrity in this work. So, we really do need your help, my dear friend.
Clarise, Rashad, Arisha, Scott, Kristen, Anay, Marena, and the rest of the

Color Of Change

team

---