Greyhound is helping Border Patrol and ICE tear families apart.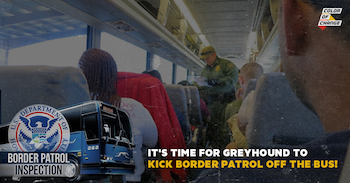 Call Greyhound and demand they stop allowing Border Patrol to conduct warrantless searches on their buses !
Greyhound is facilitating the racial profiling, detention, and deportation of its passengers. After several weeks of pressure, including 52,000 petition signatures and hundreds of phone calls from

Color of Change

members like you, Greyhound still refuses to adopt policies that would legally deny U.S. Customs and Border Patrol agents boarding their buses to perform warrantless immigration raids.
This is completely unacceptable. We have a white supremacist presidential administration that, in their zealousness to tear apart immigrant families, "accidentally" separated a parent and child who both appear to be U.S. citizens and regularly racially profile Black and Latinx passengers.1
This is what Greyhound is choosing to help facilitate. Numerous groups, including 10 state chapters of the American Civil Liberties Union and 23 members of Congress, have explained to Greyhound their legal right to not allow Border Patrol to conduct warrantless raids on their buses. Greyhound is choosing to stick their head in the sand while families continue to be separated, and their passengers continue to have their constitutional rights violated while riding their buses.
---
References :
"The Trump administration might have separated a child and parent who are both US citizens", Business Insider, 20 July 2018 http://act.colorofchange.org/go/74492?t=7&akid=15187%2E1942551%2ESDaaB5
Please see our previous message below
---
Greyhound is voluntarily allowing Border Patrol agents to board their buses so that they can racially profile passengers. In doing so, Greyhound is willfully exposing passengers to harassment and state sanctioned violence.
Greyhound is allowing U.S. Customs and Border Patrol agents to conduct warrantless searches on their buses in order to check passengers immigration status, a tactic that is all too reminiscent of when we were required to carry "freedom papers" on our person at all times to move freely in public. With Trump ramping-up his anti-immigration policies and encouraging ICE to racially profile people, the consequences of these searches are becoming more and more dire. It is resulting in Black and Latinx people being unnecessarily detained for days as well as fueling Trump's detention-to-deportation pipeline that is tearing families apart. Greyhound has the legal right and the responsibility to stop ICE agents from boarding their buses.
Greyhound has a legal right to deny Border Patrol agents from boarding their buses but are doing everything they can to say this is simply out of their hands. Greyhound has gone on the record and said, "...we are required to comply with the law by allowing Border Patrol agents to board our buses when they ask to do so…",1 but this isn't accurate. 10 state chapters of the American Civil Liberties Union as well as 23 members of Congress informed Greyhound earlier this year that they are not required to comply with Border Patrol and they have a 4th amendment right to deny warrantless searches like these on their buses.2 As Rep. Joaquin Castro of Texas, who led the Congressional letter, stated :
"...by granting consent to CBP agents to board buses to inquire about immigration status, Greyhound exposes its passengers to frequent violations of their constitutional rights to be free from warrantless searches and seizures, racial profiling, and harassment."3
Greyhound needs to immediately change their policies and use their right to protect the people on their buses.
Border Patrol is disproportionately targeting Black and Latinx passengers on Greyhound buses for immigration checks and detainment. Just last week it was announced that a Latino man in Washington state filed a $75,000 claim against Border Patrol after he was racially profiled, illegally detained and threatened with deportation while traveling on a Greyhound bus.4 Earlier this year, Border Patrol agents detained a DACA recipient on a Greyhound bus and lied to him, telling him his DACA status was expired because "Trump took that away".5 The actions of Border Patrol create a toxic and dangerous environment for Greyhound customers and by ignoring legal advice and allowing them to continue to carry out immigration raids, Greyhound is forcing their passengers into a detention-to-deportation pipeline.
Brandi, Rashad, Arisha, Jade, Evan, Johnny, Future, Corina, Chad, Mary, Angela, Samantha, Saréya, Eesha, and the rest of the

Color Of Change

team
---
References :

---